Antonio Conte named Italy's top coach award for fourth straight year
Italy coach Antonio Conte picked up his latest award on Thursday night by being named La Gazzetta dello Sport's coach of the year for 2015.
The 46-year-old won the best coach awards in 2012, 2013 and 2014 both from his fellow coaches and from the Italian Professional Footballers' Association (AIC) after guiding Juventus to three straight Serie A titles, but now he has beaten even his successor on the Juve bench, Massimiliano Allegri, to earn La Gazzetta's prize for 2015.
Conte led the Italian national team to Euro 2016 qualification without losing a single game and that record has given him optimism for next summer.
"We know how to make ourselves respected," Conte said at the award ceremony in Milan. "We're not the best team, but we're going to cause problems to everybody."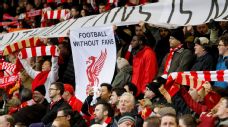 Speaking just prior to Conte receiving the award, the president of the Italian Football Association (FIGC) Carlo Tavecchio reaffirmed his desire to keep hold of Conte beyond Euro 2016.
"He's got enormous room for movement with us and I hope he stays," Tavecchio said. "We'll do all we can to keep a tight hold on him."
Euro 2016 may be Conte's one and only tournament as Italy coach with his contract up for renewal in July. The Squadra Azzurra face Belgium, Sweden and the Republic of Ireland in their group.