Mario Balotelli hits out at cameraman
AC Milan striker Mario Balotelli exceeded boiling point once again on Sunday night by breaking a cameraman's microphone upon arriving in Naples.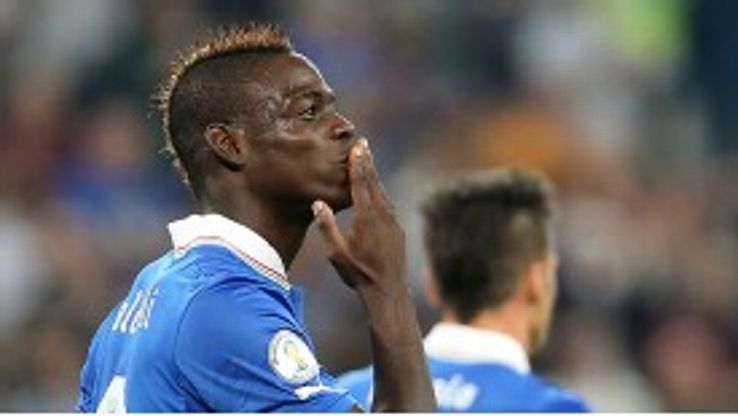 • Italy 'not dependant' on Balo
Surrounded by hordes of journalists and enthusiastic fans after arriving at Naples central station with the Italy squad, Balotelli, 23, felt one particular video reporter was getting a little too close to him.
After first shoving the camera out of the way, he then snapped off the microphone in a second attack before proceeding to board the bus waiting to take the Azzurri to their hotel in preparation for Tuesday night's final World Cup qualifier against Armenia.
The latest incident follows on from an article in Gazzetta dello Sport branding Balotelli as a symbol in the fight against the Mafia -- a claim that left the former Manchester City player feeling frustrated.
"I'm here because football is beautiful and everybody should play it where they want to, and then the game's being played here," he posted on Twitter in response on Sunday.
Questo lo dite voi! Io vengo perché il calcio e bello e tutti devono giovarlo dove vogliono e poi c'è la partita!!!! pic.twitter.com/fl4dkHlcb0

— Mario Balotelli (@FinallyMario) October 13, 2013
On Monday, the Italy squad will train in Quarto, a town which hit the headlines earlier this year for its role in the fight against the Camorra [an Italian Mafia-type crime syndicate].
The entire town council was disbanded in March due to Camorra infiltration and the local football club was renamed 'New Quarto Calcio for lawfulness'.
Italy's arrival to train there was in recognition of its efforts to eradicate the Camorra with Balotelli, who is suffering from gastro-enteritis and not certain to play against Armenia, and only taken along, according to Gazzetta dello Sport, for symbolic rather than agonistic reasons.