Milan stay over Leicester move was 'right choice' - M'Baye Niang
AC Milan forward M'Baye Niang has no regrets about his move to Leicester City falling through this winter, insisting that he always preferred to stay in Italy.
Niang, 21, is challenging for a place in the Europa League with the Rossoneri, rather than pushing for the Premier League title with the Foxes after Leicester manager Claudio Ranieri chose not to follow up with a bid for the France under-21 international.
"Staying with Milan was the right choice," Niang said in La Gazzetta dello Sport. "I never thought about leaving. People thought I was already on my way to Leicester to sign, but I only had Milan in my head.
"I told [Milan general manager Adriano] Galliani, the coach and everybody. Milan are the team I wanted to finish the season with."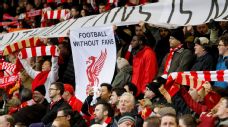 Niang has been in excellent form since returning to Milan after a loan spell with Genoa last season, scoring five goals in 13 Serie A matches and a further three in four Coppa Italia appearances.
Following a 1-1 draw with Udinese last weekend, Sinisa Mihajlovic's side are now four points off fifth spot, with their eyes set on European football having missed in each of the past two seasons.
Niang is convinced they will make up the necessary ground between now and the end of the season to avoid a third successive failure.
"We believe in Europe," he said. "Our next game against Genoa is not going to be fundamental, but we still need to do well.
"Let's hope we do everything to get the three points on Sunday. It doesn't matter who scores -- the most important thing is we win. Alex scored in the derby and he's not an attacker, so it's fine whoever scores."
After the Genoa game, Niang will sit back and support a compatriot in the weekend's big match between Juventus and Napoli at the Juventus Stadium. "I'm backing [Paul] Pogba," he said.