Napoli fans hope to travel to Juventus with help from Maradona's solicitor
Diego Maradona's solicitor is planning to lead a class action launched by Napoli fans to overturn a ban on them travelling to Juventus.
Angelo Pisani, who has defended Maradona in his various disputes with Italian tax authorities, has taken on the Napoli fans' bid to travel to Saturday night's top-of-the-table Serie A clash at the Juventus Stadium.
The away end of the Juventus Stadium is to remain empty with police fearing crowd trouble. Fans with a residency in the state of Campania will be forbidden from buying tickets for the fixture as the league leaders travel to the second-placed side.
"It's an unacceptable and illegitimate measure which also offends the dignity of Neapolitans," Pisani told Il Corriere dello Sport.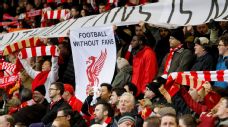 "It just disgusts you. It is blatantly illegitimate and unacceptable because it is discriminatory and reflects a state which has capitulated and is incapable of guaranteeing people's safety."
The Juventus Stadium will be sold out for the fixture which will nevertheless see a large presence of Napoli fans who do not reside in Campania, and who will have been able to get tickets for the home fans' areas.
"Closing the stadium to residents of Campania, who feel offended and damaged, is not the way to ensure the sporting event goes ahead correctly," Pisani added.
"Also because decisions like these upset the healthy sporting passion of the Partenopei fans and, in general, it offends the dignity of the Neapolitan people.
"It provokes the serious risk of mixing Azzurri fans from other parts of Italy with Bianconeri supporters in the same sectors, with a real risk of danger in these cases."
With or without their fans, Napoli will be looking to win in Turin, and take a major step towards a first Scudetto since 1990.
"If we get a draw after a difficult game, then that would be fine, but it's not something I would sign for in advance," said Napoli coach Maurizio Sarri, whose side have a two-point advantage over Juve.
"I want to go there to win. They are stronger than us, but we need to go there with defiance and play our football at the [Juventus] Stadium. They have always been coached by great coaches, they are a strong club with a very united group of players, who are used to this kind of game.
"It's something for us to be proud about, being ahead of them, and we're happy to be able to play a game like this. We're going to go there and play our game, knowing that they're going to cause us plenty of problems."
That confidence is shared by Napoli midfielder Marek Hamsik.
"We're going to make a game of it in Turin," Hamsik told Mediaset. "We're expecting a great game against Juventus -- it's first against second, so what more do we want?
"You don't need any extra motivation for a game like that. We've got a week to prepare, to study them and to get it right. They're in great form and it's going to be extremely difficult."
Juventus beat Frosinone on Sunday to make it 14 wins in a row while Napoli's 1-0 win over Carpi was their eighth straight win in Serie A.