Roberto Mancini makes cheeky Gonzalo Higuain loan request to Sarri
Inter Milan coach Roberto Mancini showed he had buried the hatchet with Napoli counterpart Maurizio Sarri by jokingly asking for Gonzalo Higuain on loan.
The pair clashed following Sarri's anti-gay slur towards Mancini during their teams' Coppa Italia meeting last week.
The Napoli coach's attempts at an apology were accepted by Mancini and Inter last week, with Mancini then showing there is no lingering ill feeling with his postmatch remarks after Sunday's 1-1 draw with Carpi.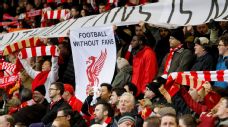 Thanks to an arrangement by an Italian television show, Sarri obliged in wearing Mancini's scarf for the duration of Napoli's game against Sampdoria on Sunday.
"It was the TV show who gave him [my scarf], but I wasn't given anything of Sarri's in return," Mancini is quoted as saying by La Stampa. "But if he wants, I would be more than happy to take Higuain on loan."
The request for Serie A's top scorer this season was only partly tongue-in-cheek, coming immediately after Mancini had criticised his own attack.
"I'm 50 and even I would have scored one of the two chances we had at the start of the second half," Mancini said. "We've got to improve up front because scoring just one goal and doing little more than that is not good enough.
"There's not one striker who can just stand there waiting and then score a goal. It's a general criticism, not just of [Mauro] Icardi. We need to be more intelligent and consider things better. Our forwards need to be keeping hold of possession in the final minutes. Football's not just about skill, but also intelligence.
"We've got to be realistic -- maybe we are not even good enough for third place."
The draw with Carpi saw Inter drop out of Serie A's top three for the first time this season, extending their winless run to three games heading into the Milan derby with AC Milan on Sunday.