Antonio Cassano: Italy Euro 2016 recall is 'one in a billion chance'
Sampdoria forward Antonio Cassano has not given up on earning a recall to the Italy squad for Euro 2016, even though he admits his chances are "one in a billion."
Cassano, 33, last appeared for his country at the 2014 World Cup, and has only found the back of the net once for Sampdoria this season.
However, the Bari-born forward has been boosted by Italy coach Antonio Conte leaving the door for players to stake a claim, and he now has four months to find a way back for the Azzurri.
"Conte does not choose anybody on reputation," Cassano told Mediaset television. "He wants players who make sacrifices, and that is why I have changed my own attitude in training. I still hope [to go to Euro 2016], even if it is almost impossible; I have a one in a billion chance.
"If I don't get called up, I will support Italy and [Lorenzo] Insigne from home."
The mention of Insigne is not a casual one -- the Napoli forward has been compared with Cassano for his style of play, and the Blucerchiati forward says all the acclaim is merited.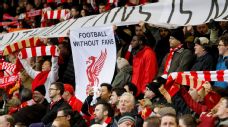 "He covers the whole of the touchline and has incredible quality, and he's doing great things together with [Gonzalo] Higuain, led by a super coach," Cassano said.
"Insigne's consistency is amazing and he's the best Italian player around right now, and I don't see any reason why [Conte] would not call him up."
In addition to scoring eight, Insigne has set up seven goals this season -- many of them for Higuain. The Argentine has netted 20 goals in 20 games, and Cassano says comparisons between Juventus forward Paulo Dybala and his compatriot is unfair.
"I'd pick Higuain all my life," Cassano said. "Dybala's a good player, but it's one thing playing three or four good months and another when you have made the difference for a decade at clubs like River Plate, Real Madrid and Napoli.
"Together with [Luis] Suarez, he is the best forward in the world. Technically he's exceptional -- he can use his right, his left and is strong in the air.
"He's light years ahead of the others; much stronger than [Edinson] Cavani who scored with his head, and that was it. Not everybody scores 130 goals in five years for Real."