Paulo Dybala can match Lionel Messi, says Juventus' Paul Pogba
Juventus star midfielder Paul Pogba says "phenomenon" Paulo Dybala can reach the same level as Argentina and Barcelona star Lionel Messi.
Dybala joined Pogba at Juventus after making a €32 million move from Palermo this summer. The 22-year-old Argentina international has quickly become a fixture in coach Massimiliano Allegri's starting XI, scoring eight times in 16 Serie A appearances for the Old Lady.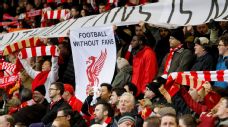 Compared by some to Messi for his dangerous left foot and penchant for scoring spectacular goals, Dybala has seen his reputation, and his game, grow in Turin. And Pogba believes the Juventus No. 21 -- once worn by Zinedene Zidane and Andrea Pirlo -- can match Barcelona's ace one day.
"He can get there," Pogba said in an interview with La Stampa.
"Do you know what I call him? Square R2, the button that you have to push on a PlayStation to do a shot on the turn -- he always gets goals like that.
"Has he surprised me? No, because I always said he was a phenomenon. To do what he has done, playing for Juve, is something phenomenal."