Seedorf praises Constant reaction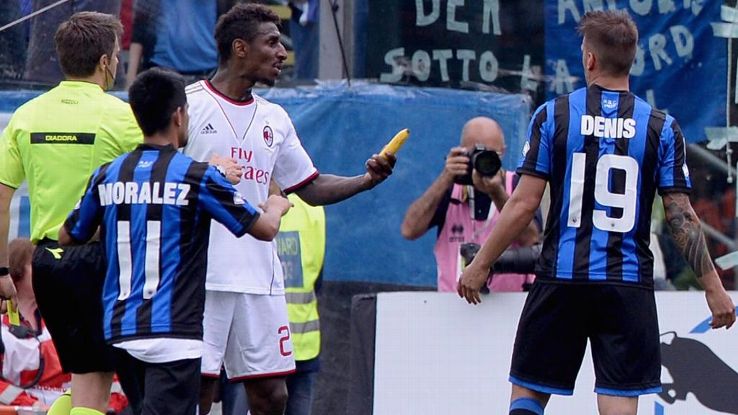 AC Milan coach Clarence Seedorf has praised Kevin Constant and Nigel de Jong for the way they dealt with a banana-throwing incident during Sunday's 2-1 defeat at Atalanta.
• Paul: Milan's Europe hopes fade
A banana was thrown towards Constant by somebody located among the Atalanta fans. The Guinea defender picked up the banana and drew the attention of the referee, Nicola Rizzoli, asking him in jest if he was allowed to eat it before teammate Nigel De Jong threw the fruit off the field, applauding the fans ironically. Play continued without any interruption.
"I don't know, all I can say is compliments to my lads who carried on playing," Seedorf said. "Let's hope they identify the culprit and do what they have to do."
Atalanta coach Stefano Colantuono also condemned the incident which comes just a few weeks after Barcelona defender Dani Alves was subjected to similar treatment, prompting an anti-racism campaign which went viral on social networks after taking a bite out of a banana thrown at him from the crowd.
Meanwhile, Milan's hopes of qualifying for the Europa League dented by a defeat which means they need to beat Sassuolo on the final day of the season and hope that Torino and Parma fail to win their matches.
Even then, doubts will persist about Seedorf's future after the club's general manager Adriano Galliani was caught by Sky Sport Italia cameras branding Seedorf "crazy" for his decision to leave Adel Taarabt out of the side.
"When I arrived here, nobody could have imagined the comeback we have made," Seedorf said in defence of his choices. "We had a huge gulf ahead of us. Now we will look to end the season in the best way possible and hope something happens to Torino.
"I have no other evaluations to make. I'm finishing the season and that's all that matters. Then there will be time to evaluate. I'm relaxed because I'm doing a good job."