Inter Milan's global drive to take in Asia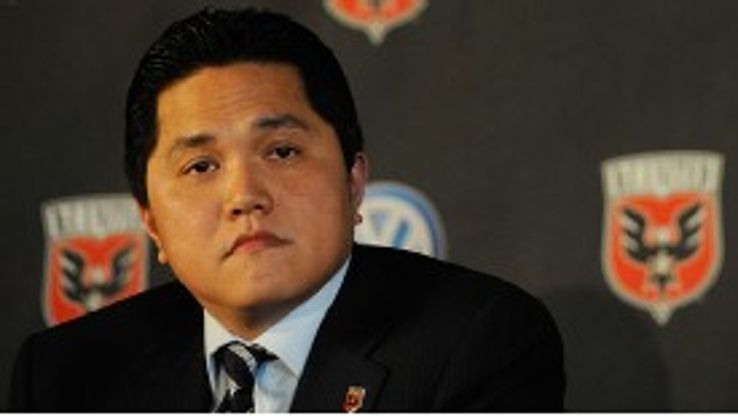 New Inter Milan president Erick Thohir is planning to take his club on a tour of Asia in the summer as part of his globalisation plans for the Nerazzurri.
• Wilson: Inter stall talks
• Wilson: Inter blow chance
Having made a positive impression on Inter fans during a week-long stay in Milan recently, Thohir has expanded further on his plans for the club following his return to Indonesia.
Those involve summer tours to increase brand awareness, probably starting with a visit to Asia in 2014. "Certainly we will go on a tour each year and we'll decide whether it will be in the United States or in Asia," Thohir told reporters at a news conference in Jakarta.
"The political situation in Indonesia is not so simple so I think it's unlikely to be here, but it will almost certainly be in Asia."
New faces are likely to be seen on that tour with Cagliari's Radja Nainggolan emerging as a leading candidate, but Thohir says that even if he likes a player himself, that does not necessarily mean he will buy him.
"It's not only me who has to decide who we buy," he said. "I may be interested in Nainggolan, but we would only buy him if everybody agrees. I would never like to be the one responsible for a bad signing.
"We will meet and decide what to do on the market. It was the same with [Lionel] Messi -- I was asked if I wanted him and I said we'd have to talk about it and decide together. That applies to any player, not only Messi.
"If you ask me if I want any player, then my answer will always be the same. We need to decide together, always keeping an eye on the balance sheet."
Keeping in touch will not be a problem, despite the distance and the different time zones. "I'll be in Milan at least four times a year, but this does not mean I am not committed," Thohir said.
"Not being in Milan every week does not mean that I won't be watching the games or that I won't be constantly in touch with the management. We have video conferences over Skype every day."