Erick Thohir takes over at Inter Milan
Inter Milan president Massimo Moratti says he is leaving the club "in good hands" after the takeover by Indonesian media magnate Erick Thohir was completed on Tuesday.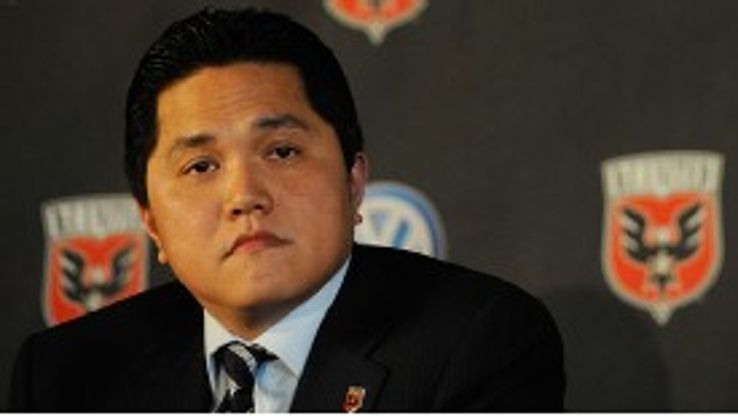 An official announcement is being drawn up, but Moratti confirmed to reporters at the entrance to his offices on Tuesday that the signatures had been placed on the contract.
"I'm satisfied," Moratti said. "It has taken a long time, but I think it's balanced and done well. Let's wait until the official announcement is made. It's always sad when things change, but I don't really think I'll have to get used to a different rhythm in my life.
"Obviously on the one hand there is the love of all this, while on the other hand, there's the satisfaction and relief that I've placed the club in good hands. I'm certain of this because they are very good people, also in terms of their character."
Although the sale of the club has gone through, and "everything has been signed," according to Moratti, it still remains to be seen how the new board will be formed. Moratti has not excluded remaining as president, even if he has relinquished his majority share in the Nerazzurri.
"I don't know, this is only relatively important and of course we will have our assembly on the 28th," Moratti said, before suggesting it will be up to him whether he remains in his role or not. "Let's wait and see."
One thing is for sure; Tuesday marks the end of Moratti's control of Inter -- which garnered a run of five consecutive Serie A titles culminating in a league, cup and Champions League Treble in 2010 -- and the beginning of a new era.
"Every president puts their own stamp on things, without doubt," he continued. "With time, probably there will be a different stamp, but what is important is always respecting the rest of the world, beyond your own activities, and I believe that these people also have that in mind."
The globalisation of Inter can now begin with Thohir and his business partners not only expected to pump fresh funds into the club, but also to improve its global appeal. Moratti may be left behind, but 'his' club is set to be carried forwards.
"I'm only trying to pretend that this is all normal and everything, but it's clear that it still takes you by surprise," said the 68-year-old. "I'll just have to see what I feel like telling (the fans)."