Inter, Roma recovering from dramatic campaign amid race for European places
Ahead of Saturday's clash at San Siro (2:30 p.m. ET, ESPN+), it's worth pointing out that supporting Inter Milan or Roma hasn't been particularly fun for either fan base this season. It has been weirdly captivating for everybody else, though. Netflix has struggled to produce anything capable of generating the same mix of emotions these two have elicited in Serie A. It has made for compelling, popcorn-grabbing viewing, full of genuine "I can't believe this is happening" moments.
Going into the campaign, both hoped to build on last year. Inter qualified for the Champions League for the first time in six years and did enough in the transfer market to indicate they might run Juventus closer than anyone. Roma surprised everyone by reaching the Champions League semifinals, which in turn raised expectations. As with Luciano Spalletti, there was great curiosity surrounding Eusebio Di Francesco and what he might be able to achieve in his second season. The pair had had a year to get their ideas across and to figure out what their teams needed in order to get better.
Everyone anticipated they would be better. Everyone was wrong.
Inter have the same points total as at this stage last year, which, it turns out, goes further today than it did then. They are third instead of fifth. They did the double over AC Milan in the Derby della Madonnina. And yet they still managed to fall short of the preseason hype.
As for Roma, Di Francesco is no longer around. He was out of Trigoria even before the anniversary of the Romantada, his fate serving as a reminder of how quickly the game changes. Roma find themselves in the exact same position Inter were in last April: on the outside looking into the top four, a point adrift, and quite incredibly still in with a chance of qualifying for next season's Champions League.
This assessment of the state of play at both clubs is too rational, however, to give an accurate reflection of the tension the two have endured over the course of a pyrotechnic nine months. In some respects, it is remarkable that one has a five-point cushion within the top four and the other continues to have a shot of playing Champions League football come September. Inter and Roma have done such a great job at bringing drama into our lives in the absence of Game of Thrones and Gomorrah that the new seasons of both series will be pushed to match it now they're back on air.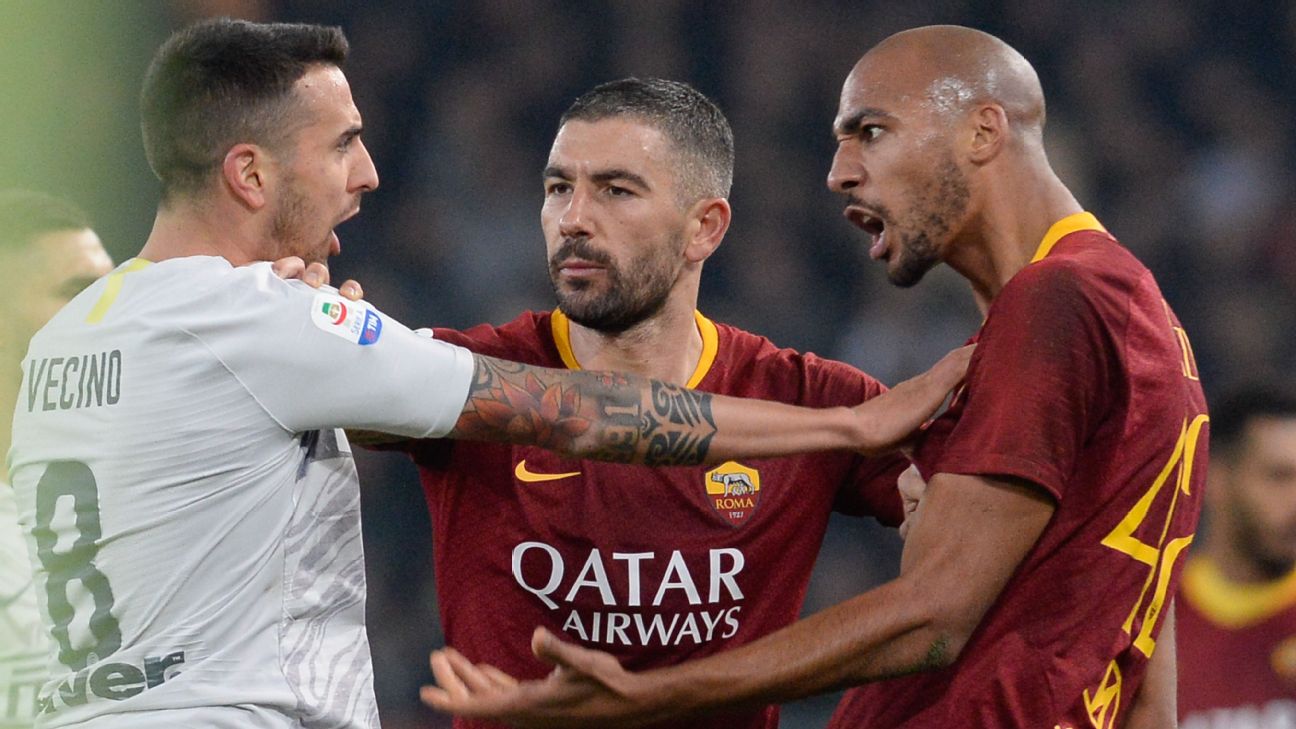 Inter stripped their top scorer and best player Mauro Icardi of the captain's armband. Mediation and considerable diplomatic effort was needed to reconcile the club and its star whose standing in the dressing room diminished with every appearance and critical take that his wife and agent made on TV about his teammates and Spalletti's choices, which -- it should be said -- Icardi did nothing to disassociate himself from nor stop.
Once Icardi was reintegrated, Spalletti -- perhaps unnerved by his No. 9's reported refusal to apologise to the team -- could no longer hide his own feelings on the matter and blew up on TV, saying the two-time Capocannoniere is not Lionel Messi nor Cristiano Ronaldo, while also calling the act of mediating his return what it was: "humiliating." It did little to discourage the notion that Spalletti and the club aren't exactly on the same page.
Eclipsed by all the Icardi business were stories from earlier in the year: Ivan Perisic's transfer request, Radja Nainggolan's nostalgia for Rome, his nights out at the casino and being late for training, to say nothing of Lautaro Martinez's father tweeting an insult aimed at Spalletti following the 1-0 defeat to Tottenham at Wembley.
Things have not been quite so reality TV trashy at Roma. It has instead respected the traditional script of an authentic big-club crisis where a lot of what can go wrong does go wrong and sometimes inexplicably so -- like blowing 2-0 and even 3-0 leads, often in farcical circumstances like away to nine-man Cagliari, getting beat by relegation battlers, or losing 7-1 to Fiorentina in the cup.
Before his dismissal, Di Francesco regularly questioned the mentality of his players. The team appeared to lack leadership, a feeling accentuated during Daniele De Rossi's lengthy spells out with injury and the sales of intense competitors like Kevin Strootman and Nainggolan. More than 40 muscle injuries ravaged not just the team but the entire squad, and the number of relapses have meant Roma are rarely able to field teams featuring players confident in their fitness. Refereeing decisions, notably in Porto and Florence, also added to the sense that when it rains it pours. Then there's Federico Fazio reverting to Spurs' Fazio and the defence declining from the league's second to its 12th best.
What has really held Roma back, though, is the recruitment. Monchi resigned after Di Francesco got the chop, tying his future to the coach's when a sporting director is supposed to plan long term and look beyond whoever is in the dugout or on the team at the moment. Loyal to the coach rather than the club, Monchi left in February, but his time in the Eternal City was already up in December when he revealed he had no plan B in the event results continued to deteriorate under Di Francesco.
Accessing the riches of the Champions League will not be enough on their own for Roma to fully recover from some of the purchases Monchi made in recent transfer windows. Yes, he extracted Nicolo Zaniolo from Inter as part of the Nainggolan deal -- a decision even he insists was collegial -- and credit is due for the deals he did for Aleksandar Kolarov and Cengiz Under. But the vast amounts invested in players rich in talent (Patrick Schick and Javier Pastore) but without any obvious fit in the system is hard to justify. The Pastore move has been forgotten by most for the simple reason that he has featured so little, but it remains the most notorious, followed closely by the move to succeed Alisson in goal with the recently dropped Robin Olsen.
Whether it's Ricky Massara or someone else who succeeds Monchi in the sporting director role, they will need to work miracles to recoup the fees and dump the contracts not just of the Argentine but possibly Steven N'Zonzi too. One is 29. The other 30. As such, neither has great resale value. Di Francesco's interim replacement, Claudio Ranieri, is doing his best to make a success out of Schick and Justin Kluivert who along with Zaniolo, Lorenzo Pellegrini and Luca Pellegrini, and Bryan Cristante, represent the future of this team. But right now his priority has to be winning games.
Which brings us back to Saturday's match and the similarities between the two teams. Neither of them know with any degree of certainty who the manager will be next season. The shadow of Antonio Conte looms large. But the cost of his hire is prohibitive for both, and despite the assurances about Massimiliano Allegri's future at Juventus, careful attention needs to be paid to what happens in Turin in the coming weeks.
It also remains to be seen what happens with both No. 9s. Icardi and Edin Dzeko would like to stay where they are right now. However, their futures appear to be elsewhere. Dzeko is 33 and about to enter the final year of his contract. Icardi, meanwhile, has crossed a line that's difficult (though maybe not impossible) to walk back.
Oddly given the many twists and turns in Inter and Roma's seasons, things have started to stabilise for the two of them of late. The scale of what's at stake seems to have focused their minds. Icardi is letting Perisic take penalties and the two are even celebrating together. Nainggolan is in form just in time to face his old team. Roma have kept back-to-back clean sheets for the first time in Serie A this season, and Dzeko got his first league goal at the Olimpico in almost a year.
It could just be the calm before another storm. Saturday's game is massive. Victory for Inter would represent a major step towards consolidating a place on the podium even with games against Juventus and Napoli still to come. In Roma's case, they could spend Easter Sunday in the Champions League places depending on results elsewhere, while also sucking Inter into the contest for fourth. Defeat for either would instead risk undermining the delicate balance both have somehow improbably struck amid all the complications wrought by a season of unprecedented discontent.