Napoli in position to make Scudetto fantasy a reality after 26-year wait
For his birthday on Sunday, Napoli manager Maurizio Sarri got this season's Napoli shirt. Printed on the back was his name and age: 57. It was signed by all his players and staff. Born in the city's Bagnoli neighbourhood where he spent his early childhood before moving to Tuscany, he has been a fan of the club ever since.
Napoli owner Aurelio De Laurentiis got him another present: an €800 bottle of Sangiovese. Sarri could be forgiven for opening it that night and making a toast. Fiorentina, whose ground he used to visit as a teenager whenever Napoli were in town, had lost on Saturday. Then on Sunday lunchtime, Inter slipped up at San Siro again, going down 1-0 -- a taste of their own medicine -- after Domenico Berardi put away a 94th minute penalty to clinch victory for giant-killers Sassuolo. Take a listen as to how that goal was celebrated in Naples.
Of all the gifts Sarri received on his birthday, this was arguably the best. Rivalling it, however, was the performance that his players put on at the Matusa in their victory against Frosinone. For the fifth time this season, Napoli scored five.
Raul Albiol got his first goal in two years from a trademark Sarri set piece. Gonzalo Higuain, haunted by missed penalties in a Champions League decider against Lazio on the final day of last season and the Copa America final against Chile, put away a spot kick and completed his fourth brace in six league games after dribbling past a series of Frosinone defenders.
Captain Marek Hamsik, making his 300th Serie A appearance for the club, scored for a third consecutive game and is regenerating the hype that once had Europe talking about him as a one of the continent's most promising midfield players. Manolo Gabbiadini, subject of interest from Swansea, emerged from the bench and showcased his magnificent technique with another scooped top corner finish from outside the box. That's now a goal every 83 minutes this season in all competitions for the 24-year-old.
It ended 5-1, and even their defeated rivals could express admiration for the way Napoli had displayed. "I have never seen a team as good [as Napoli]. They didn't misplace a single pass in 90 minutes," said Frosinone midfielder Robert Gucher in the post-match mixed zone.
High praise indeed and not the first time either that one of Napoli's opponents has been awestruck by their play this season. Schooled 4-1 by Napoli at the MCH Arena in October, FC Midtjylland midfielder Tim Sparv tweeted that they were on the same level as Spain and Germany as the best teams he has ever faced. "After yesterday, I just felt I had to modify my list."
Previously top for only five days this season -- Inter have led the way in 13 of the opening 19 rounds of the championship so far -- Napoli moved past the Nerazzurri and Fiorentina to be crowned winter champions for the first time since they last won the Scudetto 26 years ago. It's an indicator, not a guarantee, of success even if the last 12 campioni d'inverno have gone on to win the title. Napoli's lead is only two points, a small margin particularly when Juventus are the ones behind them and currently riding a nine-game winning streak.
But there can be no doubting that they deserve to be where they are. Since Napoli picked up only two points from their first three league games, prompting former Napoli star Diego Maradona to complain that the club would never win anything with Sarri as coach, they have won 18 of 22 matches in all competitions. Maradona has now seen the error of his ways and plans to come and watch them even if it means Italy's taxman confiscates whatever he's got on his person at the time.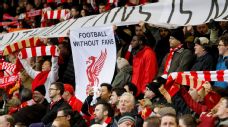 "This is only the beginning," Maradona said, raising a glass to Napoli from Dubai. "In May, I want the [title]." Napoli's run began when Sarri did what previous manager Rafa Benitez never considered: compromising on the system he wanted to play and settling instead on what best suited the players. If Napoli's season had started when they adopted the 4-3-3, tellingly the table would look like this: Napoli 39, Juventus 38, Fiorentina 32, Inter 30, Empoli 29.
Sarri has comprehensively shown up his predecessor. He earns a fifth [€700,000] of what Benitez did. He has more or less the same defence and if they keep one more clean sheet [15], they will have kept as many as they did throughout all last season [16]. Napoli had lost six times at this stage a year ago. They have been beaten only twice this season and not to any of their rivals. They've beaten Juventus, Inter, Fiorentina, were surprisingly held by Roma and destroyed Milan and Lazio 4-0 and 5-0, respectively. Their goal difference is plus-23. A year ago it was plus-10.
Several players -- Kalidou Koulibaly, Hamsik, Jorginho, Lorenzo Insigne and of course, Higuain -- are playing the best football of their careers. Higuain has scored 18 goals in 19 games. He is scoring at the rate of "the Fireman", Gunnar Nordahl, Milan's all-time top scorer from the early 1950's. More precisely, only one player in the history of Serie A has been more prolific at this stage of a season. That was the former Inter striker Istvan Nyers in 1950.
"It's like going back to an age when the best players in the world played in Serie A," wrote La Repubblica, "the time of Maradona, [Michel] Platini, [Marco] van Basten." Comparisons have been made with Higuain's Argentine countryman and former Fiorentina forward, Gabriel Batistuta. But the difference between Batistuta's era and now is that other teams had legendary strikers then too, like Ronaldo, Christian Vieri, Andriy Shevchenko, David Trezeguet and Hernan Crespo. Higuain, awaiting the further development of Juve's Paulo Dybala and Inter's Mauro Icardi, is in a class of his own at least when playing with a point to prove like he is now.
The communion this Napoli team has with its supporters is another x-factor. After every game, the players go over and join the singing of "One day I suddenly fell in love with you." It's a song that has caught the imagination a little like the one Argentina fans sung during the World Cup to the tune of "Bad Moon Rising". Although criticised by Sky Italia pundit Zvonimir Boban for celebrating wins like they'd already won the Scudetto, many don't see the problem.
After all, wasn't the Juventus Stadium and the team's renewed proximity to its fans cited as a key component of the Old Lady's first title after Calciopoli? Wouldn't Roma and Milan, both severely disconnected from their fans, wish to have the same relationship with their supporters? Even when Roma were winning games and topping the table this season, there was a disconnect between the team and those in the stands. Sure, there is a risk of getting carried away a little like this gentleman in the away end at Frosinone, but of greater concern to Napoli is if anything happens to the durable Higuain.
Napoli have also still got to go to Juventus, Inter, Fiorentina, Lazio and Roma this season. They must maintain focus against clubs like Sassuolo, who beat them on the opening day and are next up at the San Paolo. It also remains to be seen if Napoli can hold their nerve. They got vertigo last time they went top, losing to Bologna immediately afterwards. But Napoli aren't hiding anymore. Sarri has said that the Scudetto is a swear word. But as someone who has spent most of his life living and working in Tuscany, that's OK for Sarri. "Because in Tuscany we swear a lot."
James covers the Italian Serie A and European football for ESPN FC Follow him on Twitter @JamesHorncastle.