Juventus prepare for Chievo Verona with an eye on long-term finances
While Juventus prepare for their next challenge against Chievo Verona, Deloitte published the football money league, profiling the highest-earning clubs in football today. Sadly for Serie A, only Juventus made the top 10 list. The Italian league had five teams at the top 13 years ago -- how the mighty have fallen and continue to fall.
Italian sides are embarrassingly dependent on the revenues generated from TV deals, but the Bianconeri are attempting to grow the brand and increase the number of money-making avenues. Commercially, their earnings still fall far below the best and biggest, especially when compared with the likes of Manchester United, but perhaps that's to be expected.
Deloitte Money League -- 10 Richest Teams (2013-14)
1. Real Madrid, £459.5 million
2. Manchester United, £433.2 million
3. Bayern Munich, £407.7 million
4. Barcelona, £405.2 million
5. Paris Saint-Germain, £396.5 million
6. Manchester City, £346.5 million
7. Chelsea, £324.4 million
8. Arsenal, £300.5 million
9. Liverpool, £255.8 million
10. Juventus, £233.6 million
What is shocking to discover is that Juventus fall far below even the likes of Schalke 04 in certain financial categories. The Bundesliga club managed to make 104 million euros from their commercial activities last year. By contrast, the Old Lady made 85 million. The Italian side that has a prestigious history and record of success over the years and continues to be one of the most supported teams in the world cannot even match Schalke on a commercial level. More must be done in an attempt to compete with the top sides in Europe and ensure selling star players will not be the only way to make money.
Once again, Milan outdid the Old Lady commercially, making 102 million euros thanks to their recognised brand that allows them to continuously profit even when facing sporting hardships. Juventus are still too dependent on TV money and while the stadium has helped lift their burdens, they have to grow the brand and exploit the opportunities they have, especially in Asia.
While management attempts to strategise, (they assure critics they have big plans for the future), Massimiliano Allegri is preparing the team for their next match on Sunday.
Juventus
Chievo Verona
Game Details
In Chievo Verona, Juventus will face an interesting opponent. The club might not boast the best talent or the best finances, but they are ambitious and continuously seeking improvement in hopes of attaining the results they desire. Rolando Maran is a coach who works tirelessly alongside management to improve his side's physical capabilities and Juventus have proven to be an inspiration.
It's become abundantly clear that those who possess stamina and the energy required to keep going for 90 minutes have the upper hand in Italy. Effort can, at times, make up for a lack of talent. If sides work as a unit with tight lines and relentless running, they can fend off attacks and initiate interesting passages of play. Roma may boast one of the most complete squads in Italy but they lack the fight and intensity of Juve making it that much harder to obtain the required victories.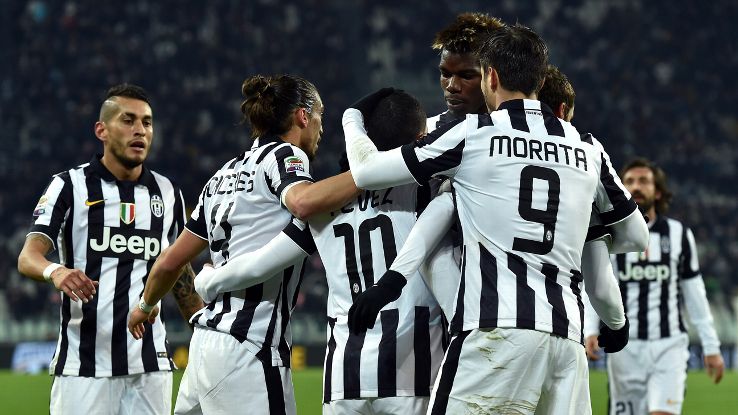 Armed with this knowledge, Chievo Verona have created a special training technique which they complete twice a week. It helps boost their intensity and improve the cognitive process. Tuttosport writes that Maran assigns each player with one specific colour that they have to look out for and then follow constantly, forcing them to improve their concentration levels and maintain their intensity for long durations. They key is to construct a side that's difficult to overcome and one that has enough energy to constantly battle, remaining alert enough to minimise errors and deepen field intellect.
The process is long, and in the meantime Chievo haven't picked up enough points to impress. They've struggled in particular against the more technical and skilfully adept sides. Their inability to keep possession long enough coupled with poor technique and passing inaccuracy have resulted in less than desirable results. In fact, no side has scored less than the Flying Donkeys while their failure in converting chances is enough to cause a migraine. Energy is required and that has helped them defensively, but unless the players can make better decisions and understand the flow of the game, they will suffer against the better sides who only require a moment of magic to score.
Claudio Marchisio is expected to start in Andrea Pirlo's place as the playmaker is suffering from the flu, while Roberto Pereyra is likely to take on the role of trequartista. Ahead of him, Allegri looks set on playing Fernando Llorente alongside Tevez. While Alvaro Morata impressed against Hellas Verona, the coach feels the Argentine has a better understanding with the former Athletic Bilbao striker.
As they look to the long-term fiscal health of the club, the Bianconeri must keep an eye on the present to make it four wins in a row at the weekend.