Napoli coach Maurizio Sarri gets two-game ban for anti-gay remarks
Napoli coach Maurizio Sarri has been banned from the touchline for two Coppa Italia games after making anti-gay remarks to Inter Milan counterpart Roberto Mancini.
The incident happened in the closing moments of Inter's 2-0 Coppa win over Sarri's side and led Mancini to describe the remarks as "unbelievable."
Sarri called Mancini a 'poof' and a 'f----t' as Inter triumphed at the Stadio San Paolo. The Inter boss condemned Sarri for his insults and said he had been so angry that he refused to accept an apology afterwards.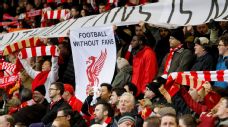 The Lega Serie A disciplinary panel met on Thursday and imposed the two-game ban for "having, in the 47th minute of the second half, aimed at the coach of the opposition team deeply derogatory remarks, an infraction which was picked up by the fourth official."
Sarri could have been banned for four months had the panel decided that his words were discriminatory, but they instead ruled they were just of a "derogatory" nature.
Mancini has been fined €5,000 for "behaving in an intimidating manner towards the coach of the opposition team, who had insulted him, and for making a disrespectful remark to the fourth official in the dressing room at the end of the match."
Inter and Napoli meet again at the San Siro on April 17.