Alessandria set up Coppa Italia date with AC Milan after win over Spezia
Alessandria coach Angelo Gregucci dedicated his side's historic 2-1 Coppa Italia win over Spezia to the late Pierpaolo Morosini as the third division side set up a semifinal tie with AC Milan.
For the first time in 33 years, a club from the third tier of Italian football are just one step away from the Coppa Italia final after two late goals from Riccardo Bocalon turned the tables on their second division hosts.
Alessandria, beaten finalists in the second edition of the cup in 1936, will host the Rossoneri next Tuesday with the return fixture at the San Siro on March 1.
"My lads have rewritten the history books tonight," said Gregucci to RAI television. "It's one of the most beautiful nights of my sporting life and at a moment like this, I want to remember one of the saddest moments of my life -- I want to dedicate this win to a lad I coached who is no longer with us: Piermario Morosini."
Morosini died of a heart attack in April 2012 during Livorno's Serie B clash with Pescara. He had played under Gregucci between 2007 and 2009 at Vicenza.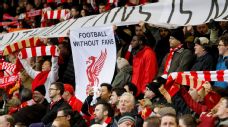 "We are proud to have reached the semifinals and to represent such a glorious city and club," continued Gregucci, wiping away the tears.
Alessandria have already knocked out Serie A clubs Palermo and Genoa on their way to the last four, and Gregucci says there is no harm in believing they can go all the way.
"Everybody has the right to dream," he said. "Even I had a dream -- I, a lad born in the province of Taranto, wanted to play against Diego Maradona in Serie A. That was my dream, and there I was wearing the colours of Lazio playing against some of the best players in the world.
"I don't want to talk about how much of a chance we've got [of beating Milan] out of respect for my own club and for them, but what I will say is that what matters the most is that we represent third-division football in a sporting manner with the right behaviour and attitude, on and off the field
"There are a lot of eyes watching this competition and we could all benefit from it."
Due to the size of Alessandria's Stadio Giuseppe Moccagatta, which holds just 5,827, the Piedmont club are expected to move their home fixture to Turin.