Jose Mourinho insists he will not manage Inter Milan next season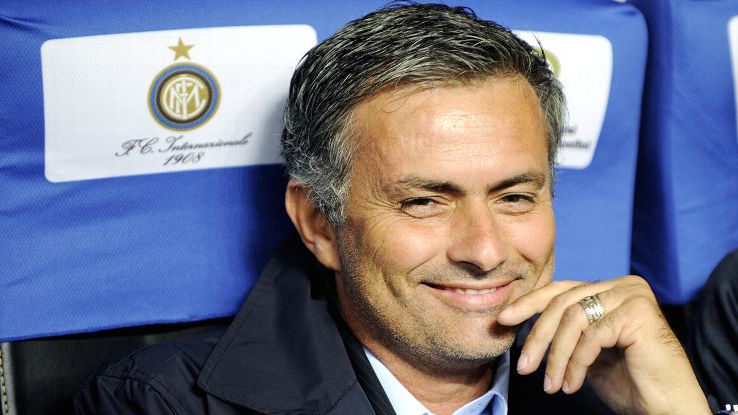 Former Chelsea boss Jose Mourinho will be in attendance for Inter Milan's match against Sampdoria on Saturday, but has insisted he won't be returning to the club next season.
Mourinho managed Inter from 2008-2010, with his time at the San Siro culminating with an historic Treble that saw the Nerazzurri win Serie A, Coppa Italia and UEFA Champions League crowns in his final season in charge.
Mourinho left Chelsea by mutual consent in December amid a fractious campaign for his defending Premier League champs, and has since been linked to a number of high-profile jobs.
Inter Milan, who at one point led Serie A this season, have seen a sharp drop in form and table position recently under coach Roberto Mancini, leading some to question his future at the club. Mourinho, however, vowed his attendance at Saturday's match is to catch up with former Inter president Massimo Moratti and nothing more.
"I'll be in Milan for one day -- I am grateful to my president Massimo Moratti, who I want to personally thank," Mourinho said via statement released to La Stampa.
"I left Inter in 2010 and since then I have worked hard at Real Madrid and Chelsea, so it has been hard to find the time to have lunch with the Moratti family. We agreed to see each other a couple of weeks ago.
"After being together for lunch we will go to San Siro, bringing with us the spirit of Inter, with the hope and happiness to see Inter win. It will be very emotional for me -- San Siro, the Inter fans.
"But one thing I want to clarify, I will not be in charge next season. Inter have a project and that is Erick Thohir and Roberto Mancini.
"Their ideas have my full support and my hope is that the project of the coach and the president continues with great success."
Mourinho, who has been linked to Manchester United recently, said his future coaching destination is still undefined.
"My next club? I really don't know," Mourinho said. "One thing is certain; I love football and I will return on the fields with the same passion and ambition as always.
"Right now I have respect for every coach and every club. I'm not looking for a club; it is the clubs who seek me."
Speaking to Sky Italia on Friday, current Inter president Erick Thohir corroborated Mourinho's story, telling the outlet he's committed to Mancini for the time being.
"I met Mourinho in Jakarta a couple of years ago," Thohir told Sky Italia.
"He's a great calibre of coach, he made history with Inter, but we have Roberto Mancini now who also wrote history with this club, achieving excellent results.
"At this moment I firmly believe he can revive the team.
"Look what's already changed. If you compare Inter this year to last year it's a different team, though of course we need more time.
"It's not an excuse and at the same time Roberto Mancini knows what our target is. We want to win the Champions League."