Roberto Mancini exit talk 'laughable' - Inter Milan sporting director
Inter Milan sporting director Piero Ausilio has described reports Roberto Mancini could leave the club as "laughable."
Inter have suffered a dip in form in recent weeks that has seen them drop to fourth, nine points behind leaders Napoli, after Sunday's 3-0 defeat to AC Milan.
Tuttosport reported on Tuesday that Mancini's relationship with striker Mauro Icardi, who was benched for the derby, had deteriorated to the extent that one of the two would leave by the summer.
However, Ausilio told a news conference later in the day that the manager, who won the Serie A title three times during his previous stint with the Nerazzurri, would not be leaving.
Asked about the rumours about the manager, he said: "I find it all quite laughable really. When you lose a derby or a cup semifinal people will always talk about off-field issues. The coach is happy at Inter and everyone at the club is delighted with the job he's doing.
"We're happy with the team and the players who kept us at the top of the league for a long time. But you can't do much about paper talk. We just have to show what we're about on the pitch."
He added: "We're delighted with the work Mancini and the players have been doing. They are the same people who had us top of the league for so long earlier in the season. We've had some problems but we know how to deal with them. We're alive and kicking."
Mancini will be suspended for Wednesday's game at home to Chievo after picking up a one-match touchline ban for making an insulting gesture during the derby.
However, Ausilio said: "We're not making ourselves out to be victims or blaming everything on referees.
"We expressed our feelings after the game when we thought it was right to do so but that doesn't mean we think other people are to blame for everything. We have our own responsibility too.
"When results aren't going your way you can't say it's down to the refereeing alone. We've come to our own conclusions and I'm sure we'll use that knowledge to our advantage on the pitch. When we thought something needed to be mentioned we did it."
Asked who would start against Chievo, he replied: "I'm not as good as Mancini at this but I can give you one name: Icardi."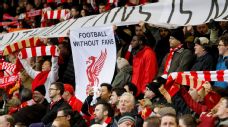 Inter's only signing in January saw them bring in Italy striker Eder from Sampdoria, but Ausilio said: "The transfer business we did in January was all agreed on by Mancini and the club."
Mancini reportedly pushed for a deal for Sevilla midfielder Ever Banega in the final days of the window, while the former Manchester City boss hinted that he was keen to sign Paris Saint-Germain's Ezequiel Lavezzi in December.
Ausilio was coy on the duo, saying Inter are "keeping tabs on lots of players," but he accepted that Inter will have to secure a top-three finish if they are to land their top targets.
"We'll have a plan A and a plan B," he said. "Being in the Champions League obviously changes what you can do transfer-wise."
He also denied that former Inter midfielder Andrea Pirlo, who left Juventus for New York City FC in the summer, had been a real target despite Mancini previously indicating he was open to a deal.
"Pirlo was never close to joining Inter," he said.