'Chicharito': Mexico in good hands under 'Tata'
EAST RUTHERFORD, N.J. -- Javier "Chicharito" Hernandez netted his 52nd international goal on his return to the Mexican national team in El Tri's 3-0 victory over the United States and believes the team is on a positive path under Gerardo "Tata" Martino.
"There's a really good mix of youngsters, a lot of experience and some in their first cycle," Hernandez told TUDN after the game. "I think a really good national team is being developed ... like I've always said we have to be positive and optimistic."
- Mexico player ratings: 'Chicharito,' 'Tecatito' stellar in win
- U.S. player ratings: Pulisic poised among poor performances
The victory extended Martino's undefeated start as Mexico coach to 12 games and the Argentine was also content with what he saw, particularly in the way the players have taken on board his playing style.
"We are satisfied with what we did and above all in reaffirming concepts," said Martino in the press conference after the game. "The players come in and are happy."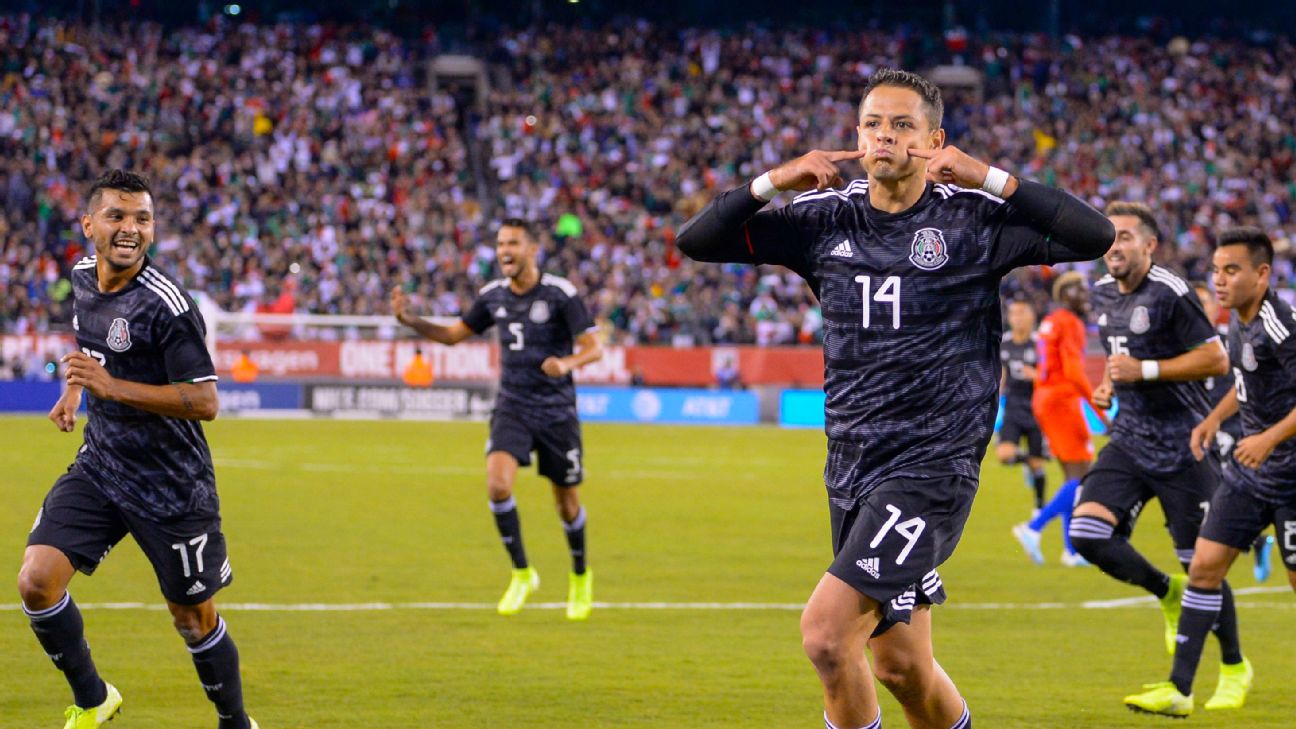 Martino felt Mexico was the better team against the United States and added that they was "lots of positive conclusions" to take from the win, even though he pointed out that it was only a friendly.
The Argentine confirmed that Andres Guardado will be leaving camp to attend the birth of his second child, while Rodolfo Pizarro will undergo surgery on appendicitis. Martino had said ahead of the game that Tigres' Luis "Chaka" Rodriguez and Monterrey's Cesar Montes will return to their clubs to injury, but was adamant that others would not be leaving before the game against Argentina on Tuesday.
"If there is no justifiable motive, the footballers will be here until the last day [of camp] with us," said Martino.
Defender Hector Moreno was delighted and both the win and that El Tri played in front of a Mexico-majority crowd in New Jersey against its arch-rival.
"It's great to win, even more when you play here against the USA, in the USA when it's their crowd and it's 80 percent Mexicans, it's amazing," said Moreno afterwards. "It's difficult to explain. I'm happy to celebrate this win and I think we can improve. We have won 3-0 but there are things to work on."
Mexico travels to San Antonio on Monday to face Martino's former side Argentina, with El Tri expected to field a very different starting XI including Raul Jimenez, Guillermo Ochoa, Carlos Salcedo and Jonathan dos Santos all expected to start.