Tottenham striker Harry Kane admits schedule has taken its toll
LONDON -- Mauricio Pochettino has warned England boss Gareth Southgate to be cautious with Harry Kane and the striker has admitted that Tottenham's relentless schedule has taken its toll on his body.
Kane missed two matches after tweaking his hamstring last month before returning for the magnificent victory over Real Madrid on Nov. 1.
He then played 75 minutes of Sunday's battling 1-0 win against Crystal Palace, despite taking a knock to his ankle in the first half.
After the game, Pochettino said it would have been a risk to leave Kane on for any longer and urged Southgate to manage his players "in a good way" ahead of the gruelling festive schedule.
Since the last international break, Spurs have played every three or four days and it was suggested to Kane that he would have to manage his fitness carefully in the weeks ahead.
"That's always the case," the Spurs vice-captain said. "We play so many games and we've had so many high-intensity games -- [Manchester] United, Madrid, Liverpool -- it takes it out of you. The manager does his best here to keep everyone in the best shape possible and I'm sure Gareth will do the same.
"The hamstrings are fine but, look, we've got to keep an eye on it. It's something that happened and we don't want it to happen again. It's about maintaining it, it's a long old season so we go away now and we do a bit of work and hopefully get ready for Friday."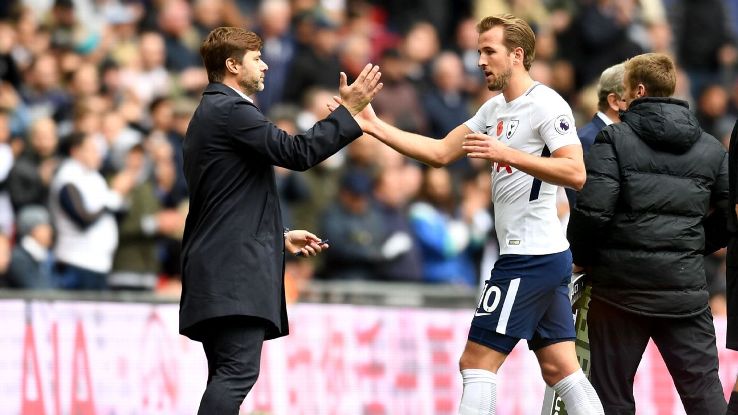 He added: "The knock in the first half [against Palace] was still niggling. It was a sore one. The manager makes the decisions for the team and he obviously thought [taking me off] was the best decision. I do everything I can when I play, whether it's 90 minutes or 70 minutes. That's all I can do."
But Kane shrugged off suggestions he needed a break and said he was ready to play against both Germany on Friday and Brazil next Tuesday in the Wembley friendlies.
"I don't think [I need a break]," he said. "I'm in the same boat as everyone else, we play a lot of games, you have to deal with it. Away from football, the recovery is just as important and that's what I'll try to do,
"It's down to Gareth whether I play. It isn't my call. Gareth will make the decision based on what he thinks is best for the players and the team. If I'm fit and called upon I'm happy to play. It's always an honour to play for my country, I'd never turn that down, so we'll see what happens."
Southgate originally named six Tottenham players in his squad for the friendlies but Dele Alli has since withdrawn and Harry Winks is a doubt after turning his ankle against Palace.
But Kieran Trippier, Eric Dier and Danny Rose should all feature and for Kane, who is expected to captain England in at least one of the matches, that is a great source of pride.
"I think it's great for the country to have I think six players all from the same team and all of those players playing as well," he said.
"We've just got to enjoy it and when we go away with England we're with each other every day anyway so we know each other's work in training and on the pitch. Here it's great, everyone is fighting for places. It's a big squad and everything is going well."
Dan is ESPN FC's Tottenham correspondent. Follow him on Twitter: @Dan_KP.