Chhetri: 'We generally don't do well outside our country'
Consider the moment. Sunil Chhetri is standing at the cusp of history. On Saturday night, the 34-year-old was named, as expected in the 23-man squad announced by newly appointed coach Igor Stimac to participate in the four nation King's Cup in Thailand next week. Should he take to the field as is expected against Curacao at the Buriram Stadium on June 5th, Chhetri will have won his 108th India cap, the most in the country's footballing history.
Chhetri, who currently is tied along with Bhaichung Bhutia on 107 India caps and also holds the record for the most goals at 67, is modest about the achievement. "I generally don't think about it. But at the same time it's both an honour and a privilege to have played so much for such a huge country with such a big history. For someone who never even dreamt of playing for his country, or even of making it professionally, it's unbelievable. It's something I don't take for granted," he said at a media interaction ahead of India's final practice session before the team's departure for Thailand.
Chhetri's numbers are immense. Yet for all his achievements as a footballer, he had to smile at the TV cameras during Saturday's interaction when he was asked to record a good luck message to the Indian cricket team ahead of their World Cup campaign. When he's asked to describe his favourite World Cup moment, Chetri grins and says it is Jeakson Singh's header from the U-17 football World Cup in India a couple of years ago. The TV reporters have to prod him for a cricket-specific answer.
But it is the football World Cup, and specifically the one in Qatar three years from now, that Chhetri has on his mind. India haven't come close to qualifying in the 14 years of his international career and had a disastrous campaign for the 2018 edition, but as coach Igor Stimac said recently -- it is important to dream.
India's first round of World Cup qualifiers are in September but the road to that will take Chhetri through the King's Cup. With opponents like Thailand, who made the round of 16 at the 2019 AFC Asian Cup, Vietnam (who made the quarterfinals in the same tournament) and World ranked 82 Curacao, the tournament will be one of the most competitive India will have played in recent times.
"We have seen a few matches of Curacao but many more videos of their individual players. The fact that almost the whole eleven play in Europe and big leagues is very good. It's good because it's not often that you get to play a team of that region. You have to take that and take all the advantage of that," says Chhetri.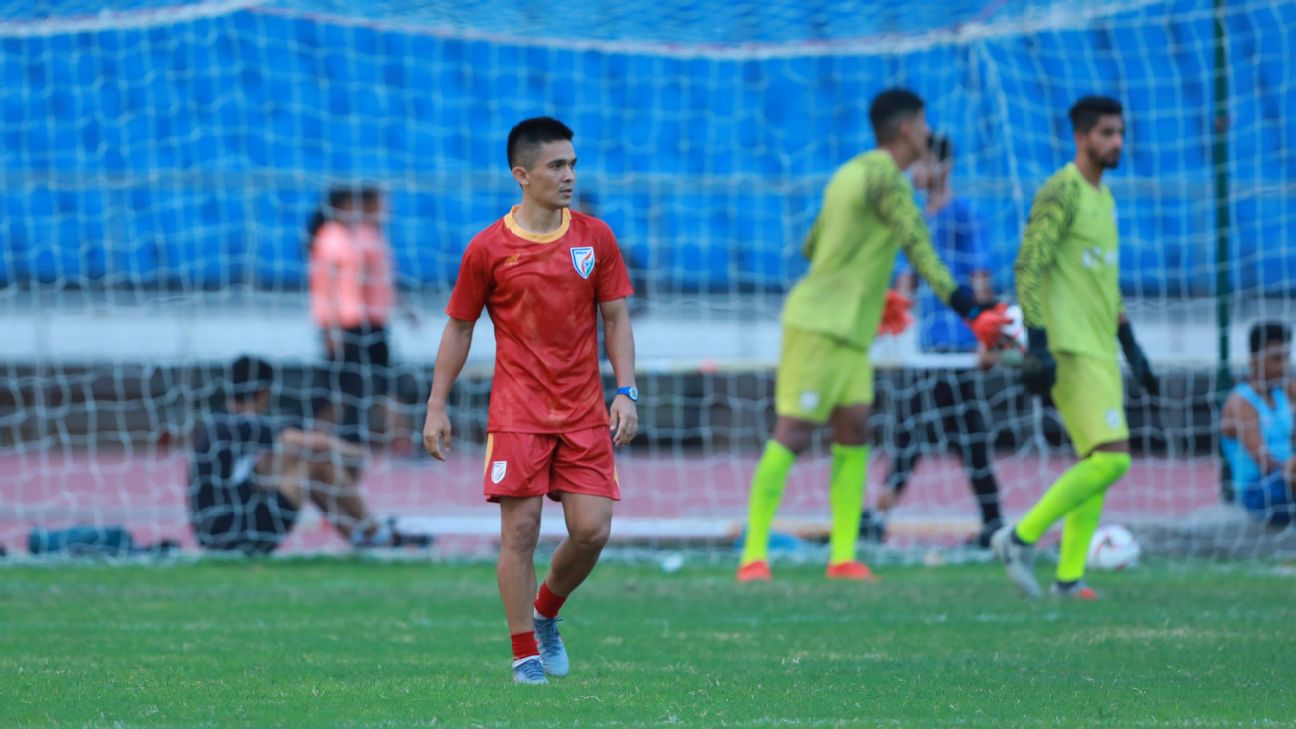 He admits the going will be tough. The fact is that India has only had a little over a week with their new coach and that the squad is in the middle of its off season, as a result of which, Stimac hasn't been able to push them physically as much as he might have liked. "The first challenge is to understand much more of what the coach wants and the way he wants us to play. And that will take time. I just hope we can grasp a lot before we play our first match. The other challenge was that a lot of us are coming from the off season so we had to work hard on our fitness because we only had about 12 days with the new coach. I hope that doesn't come to bite us," says Chhetri.
Then there is also the fact that India haven't really done well playing matches out of the country. "We generally don't do well outside our country. In the last 13 years, we have done all right at home, and lets be honest, we are bad outside home. That is something we really want to improve on. There can't be a better challenge than this. This is going to pump you up so much more," Chhetri says.
The games in Thailand aren't the only matches against challenging opponents where Chhetri where get to test himself against. In July, India will be taking part in the Intercontinental Cup against Syria, North Korea and Tajikistan. And Chhetri is hopeful of more too. "Coach has promised that he will get us games against European countries. I would love to do that. I've played for 13-14 years and I have never played against European countries," he says.
All this, he says, counts as vital preparation ahead of India's campaign to qualify for the 2022 FIFA World Cup. India will be competing in the second round of the AFC qualifiers sometime in September and Chhetri is determined to ensure that his side does better than last time around. Stephen Constantine had been in charge only for a few months when India played their second round of AFC qualifiers. India lost all but one of their round robin matches (only beating lowly Guam at home).
"Four years ago, we had a terrible campaign. The last time the primary reason that we didn't do well was that we didn't get too many good practice games. It took us time to adjust. This time the games we are getting are against Curacao, either Vietnam or Thailand and then DPR Korea, Tajikistan and Syria. That's a very decent line up. I don't think last time we played five teams like this (before the World Cup campaign). I hope all the other dates that the coach wants he will get. I just hope that four years later when you talk to me, I don't say the same thing once again," he says.
How India does in the King's Cup, will only help towards Chhetri's ambition of playing in football's greatest event. "When the qualifiers start in September, I hope that we understand what the coach wants and the coach understands more about the kind of pool he has to chose from. And as a result of this we reach September as the best possible team we can be in terms of fitness, in terms of knowing the players and in terms of knowing how the coach wants us to play," he says.