Eastern Sporting Union win inaugural Indian Women's League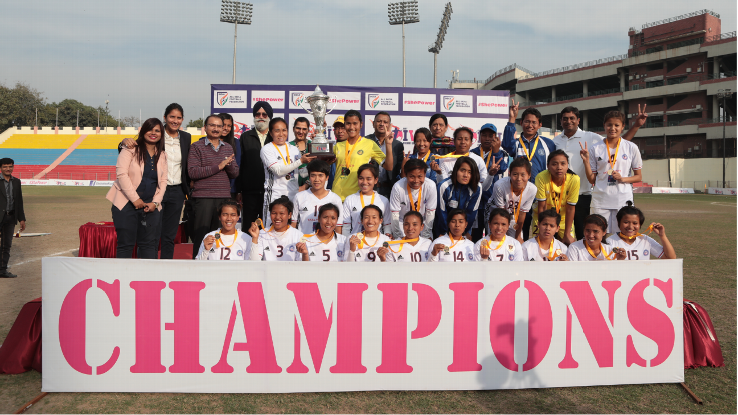 Eastern Sporting Union from Manipur won the first Indian Women's League (IWL) title with a 3-0 win over Rising Student's Club, Odisha in Delhi on Tuesday. Debayan Sen runs the rule over the final, the tournament and the prospects for the sport in India:
No surprise it's Manipur
There weren't a lot of spectators thronging Delhi's Ambedkar Stadium but the quality of play was good, especially with the eventual champions employing an adventurous 3-4-3 formation that enabled them to crowd out the RSC midfield and defence. Kamala Devi, playing at the centre of the forwardline scored the first and third goal of the day, while right-winger Irom Prameshwori scored the second goal after having provided Kamala an assist for the first. The game was played at a good tempo and some of the skills executed by the Manipuri players on the field were exceptional.
That a team from Manipur would emerge champion against a team from Odisha was no major surprise in itself. Manipur has been the biggest supplier of talent to the national team in the last two decades, and that dominance has been visible in the 21 editions of the national championships as well. Manipur have won 17 titles, making 20 finals in all. Odisha have been emerging as the newest force to challenge them, with four appearances in the final across the last six editions. They lost three of those finals, and their only win came in the 2011 final in Bhilai, which remains the only national championship where Manipur failed to reach the final.
Season 1 was a good start...
The Indian Women's League has been launched with much fanfare, and there were positives to be sought from the fact that the first season had all matches made available on live streaming. There was the added element of the participation by one Indian Super League (ISL) club in FC Pune City and one I-League side in Aizawl FC among the six teams that played the first year's final round.
In fact, Pune City CEO Gaurav Modwel told ESPN on the eve of the competition, "India have won four SAFF championships and while we are not a power to reckon with, we're improving all the time. If you are making a significant investment in the ISL, then these (youth and women's football programmes) are marginal in comparison. I'd like to believe many more ISL and I-League teams will follow suit and invest more in youth and women's football programmes."
...But a long way to go
An in-depth look at the latest FIFA rankings for women's football reveals some context around India's ranking of 54th among 177 active nations. India are 12th among Asian Football Confederation (AFC) nations, but this clouds the fact that 14 other countries have no ranking since they have been inactive over an 18-month period. Critically, five of the 11 nations ahead of India - Australia, Japan, China, Korea and Chinese Taipei - are all above them by a significant margin, and are among the few nations that have well-established women's leagues.
Among nations behind India in the rankings, Hong Kong have had a league since 1986, but find themselves a slot behind India in the AFC rankings. Kyrgyzstan began a six-team league in 2005, and Iraq concluded their first Women's Premier League in 2015-16, but both nations are currently outside the FIFA rankings.
What the future holds
All the teams that played this season featured a slew of youngsters, including 12-year-old Senorita Nongpluh from Pune City. With an average age under 20 for most sides, the final was streamed live and the concurrent audience at any one point of time was upwards of 300. It is not inconceivable to imagine a better broadcast and distribution plan with a bigger budget in years to come.
India already have a professional international in goalkeeper Aditi Chauhan, though her stint at West Ham ladies has been anything but smooth sailing. Greater internal competition and participation will lead to more options for the national team. And that can only be good news for a country still considered backyard bullies within the south-Asian region and nothing more than that.
Awards:
Emerging Player: Jabamani Tudu
Most Valuable Player: Umapati Devi
Top Scorer: Kamala Devi