Luca Toni rules out retirement, focused on saving Verona from relegation
World Cup winner Luca Toni insists that he has not decided on his future, despite reports that the striker is set to retire at the end of the season.
The Italy international, 38, has scored four goals in nine appearances for last-placed Hellas Verona this season in Serie A, and is determined not make the call on his career just yet.
"Everyone says I signed on to become a director of Verona, but the truth is I am still a football player and I haven't decided yet whether I'll retire in June or in 2017," Toni told Tuttosport.
"I've been supposed to quit for the last four years and I'll make a decision in the spring. A lot will depend on how the season goes and how I'm feeling, so whether I want to keep challenging myself all over again."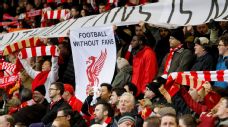 With Verona struggling in the league, the 38-year-old says that he is focused on helping his club climb out of the relegation zone, beginning with the Gialloblu's next match -- a showdown against Toni's former club Juventus.
"This time we have to make a big comeback, as a team," Toni said. "Saving [Verona from relegation] would be like winning the Champions League.
"It's better we face [Juve] now after the Christmas break so hopefully some players will still be distracted.
"Juventus are clearly stronger, but we can cause them problems."