Mesut Ozil voted Germany national team's player of the year
Mesut Ozil has been named Germany national team player of the year 2015 by the fans of the Germany team. Thomas Muller finished second, and Cologne left-back Jonas Hector made the podium too.
The Arsenal midfielder received over 51,000 votes in the annual poll en route to a fourth Germany national team player of the year title in his career.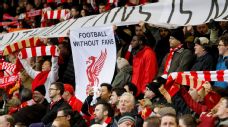 Ozil, who has played an outstanding Premier League season so far, took to the field in eight of the nine Germany matches in 2015, and only missed out in the final match of the year, a defeat to France in Paris, which was overshadowed by the attacks on the French capital.
With a total of 45.9 percent of the votes, Ozil outclassed Thomas Muller by a distance. The Bayern Munich star received 15.9 percent and finished second ahead of third-placed Jonas Hector, who collected 13.6 percent of the vote. A total of 13 players were nominated for the award.
The Arsenal midfielder has now won four of the six Germany national team POY awards. In 2010, Bastian Schweinsteiger received the first trophy, and in 2014 Toni Kroos was the fan favourite.
Dortmund's Marco Reus received the award for Germany goal of the year for his goal from a Sami Khedira cross in a 2-2 draw with Australia in March.
"It wasn't that hard, but it was cool that the two of us managed to create that situation against five defenders," Reus said of his goal, which was named goal of the year by 35.8 percent of the voters.
"To be honest, I've scored better goals before, but I'm pleased nonetheless to have gone level with my friend Mario Gotze, who won the same award last year," Reus said, remembering the Germany international's World Cup winning goal in the final against Argentina.
"My goal was just as important as his was," a laughing Reus said.