Auba ignores Yaya Toure criticism after African Footballer of the Year win
Borussia Dortmund striker Pierre-Emerick Aubameyang is "not interested" in criticism from Yaya Toure after being named African Footballer of the Year.
Toure had won the award three years in a row but was beaten by Gabon international Aubameyang to the 2015 honour, and the Manchester City midfielder questioned the award criteria after the ceremony.
"I'm very, very disappointed. It's sad to see Africa react this way, that they don't think African achievements are important," Toure told RFI.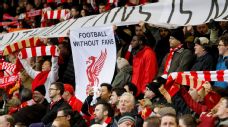 "I think this is what brings shame to Africa, because to act in that way is indecent. But what can we do about it? Us Africans, we don't show that Africa is important in our eyes. We favour more what's abroad than our own continent. That is pathetic."
Toure was angered to not pick up the award after Ivory Coast won the African Nations Cup last year, while Gabon were eliminated in the early stages. Aubameyang's displays in the Bundesliga and the Europa League were enough to end Toure's reign as the best African player.
Speaking to Sport Bild at Dortmund's winter training camp in Dubai, Aubameyang said that he won't let Toure spoil his achievement.
"I really don't know why he said that in the first place," Aubameyang, who scored 18 goals in 17 Bundesliga games in the first half of the season, and a total of 41 goals in all club competitions in 2015, said.
"But I don't get annoyed with it, and by now I don't even care about it. I am not interested in it."