Mesut Ozil named best 'German abroad' as Bayern Munich dominate
Arsenal playmaker Mesut Ozil has been named the best "German abroad" by influential magazine kicker.
The "kicker ranking of German football" is published on a biannual basis, and ranks players in all positions, and also those plying their trade abroad.
It divides them into four categories: world class, international class, players of note and players in focus.
Ozil is the only "German abroad" to be called up into the international class following his impressive displays for the Gunners in 2015-16.
All other German players in foreign leagues -- including World Cup winners Toni Kroos, Sami Khedira, and Bastian Schweinsteiger -- were only in third or fourth categories.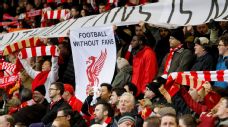 "The midfield star just missed out on the world class category due to his weak start to the season," the magazine said of Ozil, who only needs four more assists to equal Thierry Henry's record of setting up 20 goals in one season.
But former Germany captain Lothar Matthaus said the midfielder is "too inconsistent" to be named world class, adding: "I expect even more from him."
"Now and then, he hides and you can't see him just like in the 4-0 defeat at Southampton."
In Germany, Bayern Munich dominated the positions, with Robert Lewandowski named best forward, just head of Borussia Dortmund's Pierre-Emerick Aubameyang.
In addition to Lewandowski, Manuel Neuer, Phillip Lahm, Jerome Boateng, Thomas Muller Xabi Alonso and Douglas Costa were named best Bundesliga players on their respective positions.