Petersen hopes to join Bremen
Werder Bremen striker Nils Petersen does not see any future for him at Bayern Munich and wants to join the club on a permanent basis at the end of his loan.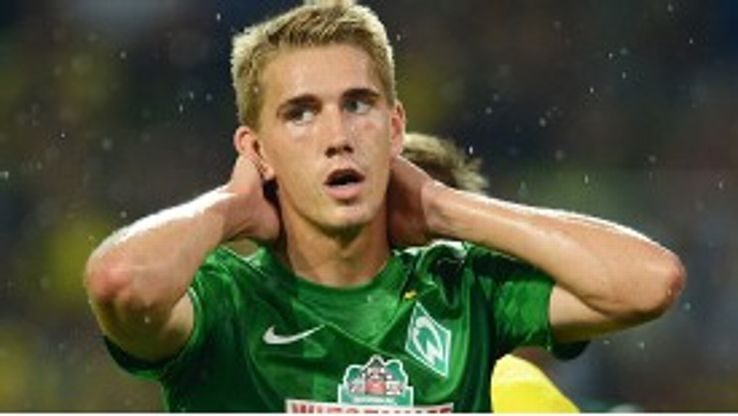 Petersen, 24, is at Bremen on a season-long loan and has featured in every match, starting 17 of the 20 games. A late brace in the 2-0 win over Hannover 96 on Friday took his tally to nine goals.
Petersen was signed by Bayern from Energie Cottbus in the summer of 2011 but failed to fight his way into the team, scoring two goals in only nine league appearances.
"I would very much like to stay at Bremen, that is for sure," Petersen told Radio Bremen.
The loan contract does not include an option to buy for Bremen and so far Bayern have put talks about his long-term future on hold. Last month Bayern general director Matthias Sammer told Bild: "We will not discuss this issue before spring."
There appears little chance of Petersen breaking into a Bayern team which has the attacking options of Mario Mandzukic, Mario Gomez and former Bremen man Claudio Pizarro. Add to that rumours about Dortmund's Lewandowski joining Bayern, which have grown stronger since the Pep Guardiola deal was announced, and it seems likely Petersen will be sold.
"If all three stay at Bayern, it would make no sense for me to return," Petersen said. "They will not need a fourth striker."
The former Cottbus man also was realistic about his chances under the new coach: "For Guardiola, Nils Petersen is certainly not the most important personnel matter right now."
Bremen boss Thomas Schaaf would also be delighted to see Petersen prolong his stay, but at the weekend the Bremen boss told Weser Kurier that the decision was down to Bayern and not Bremen. "Thus it is of no use talking about this all the time," he said.