Bayern topple Ingolstadt to ensure Bundesliga top spot for winter break
Bayern Munich
FC Ingolstadt 04
Game Details
Bayern Munich ensured they will be leading the Bundesliga going into 2016 with a hard-fought 2-0 victory over Bavarian rivals Ingolstadt.
Pep Guardiola's men were up against it in the first half, but Robert Lewandowski settled their nerves 10 minutes into the second half and Philipp Lahm added a second 10 minutes later.
The win gives Bayern an eight-point advantage over Borussia Dortmund at the top of the table and, although the Westphalians have a game in hand, they cannot now catch the champions, who have one game left before the winter break.
Ingolstadt appeared to have taken a leaf out of Borussia Monchengladbach's book by harassing the Bayern players rather than letting them get away with their usual controlled possession game.
It succeeded not only in restricting the hosts to only a few half chances in the first period, but saw them gain confidence as the game progressed and end the first half in the ascendency.
Indeed, Manuel Neuer had to be at his best to ensure Bayern were still on level terms at the interval, with excellent saves from Roger and Stefan Lex.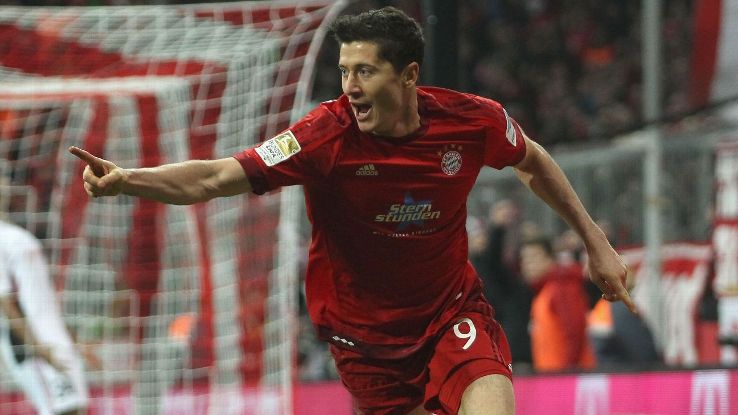 The question was how long Ingolstadt could keep up the pressure on the runaway league leaders, and it became immediately clear at the start of the second half that they were going to be tested harder by their hosts.
Nevertheless, they continued to create chances on the counter-attack and Lex was again put clean through on goal with Neuer - not for the first time - coming to Bayern's rescue.
Lewandowski showed him how it should be good when he gobbled up Bayern's next and arguably first big chance of the game, latching on to a punt forward from Jerome Boateng before beating Ramazan Ozcan, who was caught in two minds.
With the deadlock broken, it was only a matter of time before the second goal arrived, and Kingsley Coman and Thomas Muller were involved in creating it for Lahm to net his first goal in over a year, ensuring Bayern will top the standings at the turn of the year.