The Bundesliga is back: Will Guardiola and Bayern win it all? Who'll go down?
Thirty-three days after the last final whistle of 2015, the 53rd Bundesliga season resumes on Friday night, just as temperatures across Germany plunge, as luck would have it. It's been a long but very quiet winter break, bereft of any real controversy or superstar transfer. (Unless you include World Cup winner Kevin Großkreutz, back from not playing for six months at Galatasary and now at Stuttgart, in either category, that is.)
We could still see the odd transfer as some clubs -- Dortmund and Wolfsburg, probably -- are trying to pre-empt buying in the summer, when prizes in Europe will overheat as a result of the new Premier League deal. But by and large, this winter holiday, like most winter holidays, has been a time for considered introspection rather than flexing the chequebook.
Things are bound to get more hectic as the fight for the Champions League places and the relegation struggle continues. Maybe there'll even be a title race, if Bayern continue a recent trend of coming slowly out of the blocks in the second half of the season, the Rückrunde.
With Euro 2016 and the perceived threat of the Premier League looming large as summer approaches, you can expect the temperature to rise. The current chill -- and relatively chilled state -- certainly won't last long.
Here are five of the key questions for the second half of 2015-16.
Will Guardiola fulfil his mission at Bayern Munich?
The Catalan coach is off to the Premier League in the summer, that much we know. What kind of legacy will Pep Guardiola leave behind? To some extent, the 45-year-old has been stumped by his own success. Along with the technical and tactical quality of their football, Bayern's domestic dominance has reached dictatorial levels under his guidance, to the point where the championship has become to be seen as a given, before the first ball has been kicked.
As a result, everything hinges one or two games in the Champions League. Guardiola has been exasperated by having to perform to such tiny margins of error and his move to England must undoubtedly be seen in that context. "He's going to a league where he doesn't have to apologise for winning it," noted Süddeutsche Zeitung on Thursday.
His club and players will be desperate to give him the send-off he craves, with a treble of trophies. Bayern are well equipped to achieve their lofty ambitions but it could well be a bumpy, nervous ride.
In the league, Dortmund have re-emerged as a credible rival for the first time since 2012. And in the Champions League, the Round of 16 tie against Juventus has become a much more daunting prospect since the draw was made, due to the Old Lady's sensational form.
Hopefully for Bayern, Guardiola will have learnt from the previous two seasons, when Bayern never quite reached previous heights and succumbed to many injuries. There's more depth in the squad than before but the perfect season won't come easy, if at all.
Can Tuchel win silverware with Borussia Dortmund?
Bayern's eight-point lead in the league will make it difficult to catch up but the DFB Cup and Europa League offer alternative routes to glory for the Black and Yellows, who scored 84 goals in all competitions in the first half of the season.
Injuries have been kept to a minimum but manager Thomas Tuchel has asked for two more recruits to help carry the load going forward. Mainz's Turkish international Yunus Malli is close to finalising a deal worth €13m and one more attacking player is being targeted. In addition, Borussia are hopeful that Marco Reus, one of the few players who has not improved under the new management, will at last find full fitness and performances .
Dortmund have been so good that a trophy would be a deserved reward. It's a chance they should seize, especially as keeping their key players, an art at which they have excelled since 2010, will only become harder from next summer onwards.
Who will get into the Champions League?
While Bayern and Dortmund have played in leagues of their own in terms of consistency, the field below them has opened up. Surprise package Hertha Berlin, currently third, can rightfully dream of a return to the big time -- their first and only outing in Europe's top club competition dates back to 1999 -- even if doubts about the true extent of their quality remain.
Borussia Monchengladbach have surged back to the top four after a disastrous start that saw Lucien Favre depart but the teams behind them can all still improve. Leverkusen, Schalke and Wolfsburg have all been underachieving, relative to the capability of their squads and, secretly, Mainz, Cologne and Hamburg will also cast an eye on fourth spot.
More than half the league, in other words, is still in the race. The outcome will make for an engrossing contest and, in a league where clubs by and large have to grow organically, the outcome will go some way to decide who'll be able to join Dortmund and Bayern at the very top next season.
Who will go down?
There are only 16 points between last-placed Hoffenheim and Gladbach in fourth, meaning the aforementioned openness in the top half extends all the way down the table. Are newly-promoted Ingolstadt, for example, safe in a respectable 11th position? It's still too early to say.
With so many teams exposed to the terrors of a relegation battle, traditionalists fear that one of the blue-chip clubs might not survive. Hannover (17th), Werder Bremen (16th), Stuttgart (15th) and Eintracht Frankfurt (14th) are all in acute danger, while Darmstadt (13th) and Augsburg (14th) are also not quite out of it.
It might not mean all that much to an international audience but last year's scrap for survival saw domestic TV ratings surge because so many well-supported clubs were affected. The story might well repeat itself, but with an unhappier ending. League bosses and neutrals believe the Bundesliga can ill-afford the loss of one or two of its bigger teams.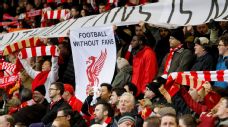 Who will buy the Bundesliga and at what price?
The bumper TV deal for the Premier League has increased the pressure on the league to deliver a substantial increase on the existing contract, which is scheduled to bring in €835 million for 2016-17. Leading clubs believe the coming rights cycle (2017/18 to 2019/20) should be worth in excess of €3bn.
The league are willing to accommodate rights-holders with a new Monday night game in select weeks but it's unclear if that will be enough to push the bids substantially higher. Unlike in the UK, where BT Sport have emerged as Sky's rivals, there's no pay TV channel to compete with monopolist Sky Deutschland for the rights.
Regardless of the final sum, the big clubs will also demand a bigger sum of the pie. Threats by Bayern Munich chairman Karl-Heinz Rummenigge to push for an end of centralised marketing are not more than that, at this stage, but the debate will intensify as the new deal edges closer in the spring. The chances are that it will get quite ugly, too.
Raphael Honigstein is ESPN FC's German football expert and a regular guest on ESPN FC TV. He also writes for the Guardian. Twitter: @honigstein.