Lewandowski, Aubameyang and the race to reach 30 Bundesliga goals
On Friday, Borussia Dortmund put in their worst league performance since April and suffered a deserved 3-1 defeat at Hamburg, their new bogey team. Dortmund were erratic at the back, gifting the opposition all three goals, and uninspired in attack, not least because striker Pierre-Emerick Aubameyang had a nondescript game.
Yet even on this dismal night, the Gabon international underlined why he might be the biggest marvel of the season so far. In fact, maybe on this night more than ever.
Because despite the fact that the striker was as out of sorts as the rest of his team, he could have easily scored a hat trick.
Twice, he had only Rene Adler to beat, but the Hamburg keeper brilliantly parried away both close-range efforts. Aubameyang also had a goal chalked off for offside. And four minutes from time, he picked up a through ball from sub Adnan Januzaj and put the ball away to go clear at the top of the scoring charts with 15 goals from 13 games.
To put this rate into perspective, a year ago, Frankfurt's Alex Meier was the best goal scorer at this point in the season with a meagre eight goals.
Whenever a Bundesliga striker has a good start and hovers near or above the goal-per-game mark after a third of the season or so, people invariably dig up Gerd Muller's ancient scoring record and wonder if it can be broken. The record stands at 40 goals, set in 1971-72 and, no, it will not be broken.
As Bayern Munich striker Robert Lewandowski recently told a reporter: "You have to score two, three goals in almost every game before you can even begin to consider pulling that off." Gerd Muller's record, he added, "is too far away."
However, there is another magical mark: the 30-goal barrier.
Although the Bundesliga is traditionally the highest-scoring of the big leagues, no individual has netted 30 goals in a season since Cologne's Dieter Muller found the net a stunning 34 times in 1976-77.
During the following four decades, a few players came close to reaching that distinguished mark. Bayern's Karl-Heinz Rummenigge (1981) and Schalke's Klaas-Jan Huntelaar (2009) finished with 29 goals, yet both needed a late surge to reach that mark. Rummenigge scored seven goals on the final three matchdays, Huntelaar five.
The same goes for two of the strikers who scored 28 goals, Mario Gomez (2011) and Grafite (2009). So maybe you have to say that the player who had the best chance to finally crack the 30-goal barrier was Werder Bremen's Brazilian forward Ailton.
In early April 2004, the burly striker stood at 25 goals after 27 matchdays. He seemed to have plenty of time to add the five goals that would have taken him to the elusive plateau, but then he cooled off and scored only three more goals down the stretch.
So, what are the odds that Aubameyang will do what nobody has done since the original "Star Wars" opened in theatres?
They are longer than one would think. Too many things can go wrong during a long season. Five years ago, Hoffenheim's Vedad Ibisevic racked up 14 goals from 13 games, then 18 goals after 16 games. But during the winter break, he tore his cruciate ligament in a friendly and was out for seven months.
When that happened, a few seasoned Bundesliga observers will have remembered the sad story of a striker called Peter Meyer. In 1967, the 27-year-old Borussia Monchengladbach forward went on a scoring spree that put even Gerd Muller in the shade.
Meyer had nine goals after four matchdays. He had 16 after 13 games, one more than Aubameyang now. Meyer then scored against Frankfurt and Cologne to bring his tally to 19 goals from only 15 matches.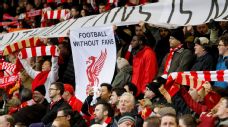 But a few weeks later, in January 1968, he broke his leg during a training session. The fracture never properly healed. Meyer made only one more league appearance before being forced to hang up his boots in 1970.
Of course, many purple patches come to an end under less heartbreaking circumstances.
In 1975, Hertha Berlin's club legend Erich Beer scored 15 goals in his team's first 13 league games, same as Aubameyang. Like Aubameyang, he also scored freely elsewhere: Beer found the target five times in the first two rounds of the cup and had a brace for West Germany in a friendly against Austria.
Then he slowed down. It's as simple as that. It wasn't that his team collapsed or that he suffered an injury. (In fact, Beer played in every game in every competition that season.) All that happened was that his scoring rate reverted to normal. He finished with 23 goals, his best haul ever but not good enough to win the Golden Boot, let alone trouble the 30-goal barrier.
Stats like these indicate that Aubameyang is still facing an uphill struggle in his hunt for 30 goals. But you have to take into account that he has an involuntary ally. The Dortmund striker is not alone.
With 60 seconds left on the clock of Saturday's clash between Schalke and Bayern, Arturo Vidal released teammate Lewandowski with a fine vertical pass. From 16 yards, the Polish marksman put the ball past goalkeeper Ralf Fahrmann -- only to see it hit the right-hand post. If that ball had gone in, Lewandowski would have drawn level with Aubameyang in the scoring charts, as the Pole has 14 goals after 13 matchdays.
And this is where we step onto nearly uncharted territory. Taken individually, neither Aubameyang's nor Lewandowski's goal hunger is without precedent, but two strikers who are scoring at a rate of more than one goal per game this deep into the season? That's almost unheard of.
There are some cases in league history, although they are few and far between, that you can roughly compare to the Aubameyang/Lewandowski double act. In November 1965, Lothar Emmerich (Dortmund) and Timo Konietzka (1860 Munich) both stood at 13 goals after 13 matchdays. In October 1977, Dieter Muller had 15 goals at this point in the season, same as Aubameyang, while Gerd Muller had 13, only one fewer than Lewandowski.
Of those four, only one man, Emmerich, eventually did reach the magic mark. He finished the season with 31 goals. Konietzka had 26, while the two Mullers scored 24 each to share the Golden Boot award. That gives you an idea of how hard it is to crack the 30-goal barrier, even if there are two strikers who are on fire and will goad each other on.
And yet there hasn't been a season during the past four decades when the 30-goal barrier has looked as rickety and ready to be scaled as it does now.
Two minutes after Lewandowski had hit the post against Schalke, deep into stoppage time, Thomas Muller received the ball a few steps into the opposition's box. He teased veteran defender Sascha Riether and then nonchalantly knocked the ball into the far corner.
It was league goal No. 12 for Muller, which means there is a third player who is currently scoring at a rate that would see him finish the season on more than 30 goals.
One of the three should finally go all the way and lift the 30-goal curse. The smart money is probably on Lewandowski. He plays for the only team that has no off-days, and he's the only one of the three who has scored more than 20 goals in a season.
He will also be quite aware of the historic mark. When I recently talked to him, I pointed out that he showed the crowd four fingers immediately after scoring his fourth goal against Real Madrid in April 2013 and five fingers after scoring his fifth against Wolfsburg in September. It would seem to indicate, I said, that he knows the record books well.
He smiled and said all the right things, about how helping the team and winning the game is all that counts, not individual honours. But when I mentioned that he holds a Dortmund club record for having scored in the most consecutive games, he could immediately rattle off the details.
You wonder what happens if he reaches 29 goals and Bayern win a penalty. The club's regular taker is, of course, Thomas Muller.
Uli covers German football for ESPN FC and has written over 400 columns since 2002.