German fans' protests over ticket pricing is starting to have an impact
Sunday's derby between Borussia Dortmund and Schalke 04 was one of the best games in recent memory between these old regional rivals. What the stadium announcer declared to be a sellout crowd of 79,956 saw a tense, close and thrilling match. For the first 30 minutes, it pitted the hosts' careful maneuvering against the visitors' counterattacking game. In the last 20 minutes, it was end-to-end stuff. And in between, there were five goals.
Before the game, I met an American fan who is trying to visit every Bundesliga ground during his stay in Germany. He had paid €110 to a ticket tout for one of the worst seats in the house, three times the normal price. When I asked him after the game if it had been worth the money, he said, "Absolutely!" Yet in the same stand where he was sat, about 70 yards to his left, there were gaping holes in what is normally a jam-packed away section.
How was that possible? How could this be a sellout when there was enough space on the north stand to park a few lorries in?
The explanation is as simple as it is stunning. More than a thousand die-hard Schalke fans -- people for whom this game meant much, much more than to the American touring Germany -- did not attend the derby, even though they were all in possession of a ticket for which they had paid about €20. It was a highly visible boycott meant to protest ticketing restrictions.
Under league regulations, a Bundesliga club has to reserve 10 percent of all available tickets for the visiting team. Two weeks before the game, the visitors return unsold tickets to the home club, which will then put them back onto general sale. Nobody offers more tickets for travelling supporters than Dortmund, for the simple fact that Borussia's ground holds 81,359 for domestic matches. (During European and international games, the stadium has to be converted into an all-seater ground, which reduces capacity by 15,500.)
This allotment translates to more than 8,000 tickets for visiting fans for a league or a cup game. Needless to say, that's quite an amount, and not all clubs even have that sort of away support. However, Schalke most certainly have -- especially on derby day.
The police were always unhappy about this procedure when it comes to a heated, potentially troublesome clash like the Dortmund-Schalke derby. Policing 8,000 visiting fans is obviously no easy feat; a few months ago, the local Dortmund police thus urged the club to halve the visitors' allotment to about 4,000 tickets, citing "incidents in recent years" as the reason. But there were no serious problems at the previous derby in Dortmund, and so Schalke's fans, particularly the "ultras" groups, were irritated by this security measure and a few requirements, such as telling them how and when to travel to Dortmund.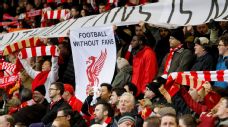 The two clubs debated the matter and came up with a compromise: Borussia would give Schalke 6,500 tickets, less than the regulations say but more than the security forces wanted. Neither the police nor the ultras were happy; the former complained their concerns hadn't been taken seriously enough, and the latter decided to boycott the derby.
Schalke eventually returned between 800 and 900 tickets to Dortmund because many regular Schalke fans had responded to the call for a boycott and refrained from purchasing one. Meanwhile, the ultras, reportedly around 1,100 people, decided to forfeit their tickets and stay home, hence the gaps at a soldout ground.
It wasn't the first time this season that supporters decided to boycott a derby, the most drastic course of action for a truly die-hard fan. In September, ahead of the Cologne versus Borussia Mönchengladbach game, the visiting club returned 1,800 unsold tickets to Cologne, with almost as many Gladbach fans who already had tickets deciding to stay away from the ground.
Their reason was the same as Schalke's: There had been riots and a pitch invasion during the derby at Gladbach in March, whereupon the police introduced personalised tickets and cut the visitors' allotment for the game in Cologne from 5,000 to 3,500 tickets. However, the trouble in March had been started by Cologne supporters, meaning Gladbach fans felt disproportionately and unjustly punished.
German football fans have a history of standing up for their interests and rights (or what they perceive to be their rights) since the beginning of the modern football boom in the early 1990s. In fact, that is why they still have terracing, relatively cheap ticket prices and lots of football on free television. In 2001, for instance, an attempt to all but force fans into buying premium TV access was met with a mass boycott, forcing the entrepreneur Leo Kirch, who held the television rights at the time, to cave in quickly.
Yet the rate at which fans are staging protests just three months into the new season is unprecedented. Dortmund's supporters, for example, have already held their own boycott. This one had nothing to do with ticket restrictions and everything to do with ticket prices.
Most clubs, including Dortmund themselves, have a big-game policy regarding tickets, effectively a premium charge for high-profile games. (In Dortmund, ticket prices for games against Schalke and Bayern are increased by 20 percent.) Therefore, fans who happen to support a big team pay a lot more money over the course of a season than their counterparts at smaller clubs.
When Dortmund's supporters were told this season that the cheapest ticket for the away section in Hoffenheim would cost €55, they called for a boycott. Their club, which had received 3,000 away tickets for the game in September, returned 800 unsold.
What may seem like a small and quiet protest actually yielded the desired result. Hoffenheim's general manager Peter Rettig said his club would give the money they had made from charging a premium on away tickets to a charity project run by Borussia Dortmund. He added: "We have overshot the mark and will turn back the clock."
However, one fears that a similar protest will be less successful. In October, Bayern Munich supporters staged a demonstration during their team's Champions League game at Arsenal. They boycotted the first five minutes, and when they finally took to their seats, they carried a banner that read: "£64 a ticket. But without fans football is not worth a penny." Even the home supporters gave them a round of applause.
Bayern's ultras are not only concerned about the ticket prices in England, they are looking at the larger picture. In a press release issued last week, they said, "We take the view that it's about time to hold a general debate about the pricing of tickets for UEFA club competitions."
The statement draws attention to the fact that there are "extremely different price and wage levels across Europe" and argues that if "football takes its role as a bridge-builder across borders seriously," it should find a way for someone from a poorer country, where a ticket to a football game is inherently cheaper, to support his team even if it's playing away in a rich country, where the price of admission can easily be 10 or 20 times as much.
Put simply, Bayern's fans suggest that the price for an away ticket should be the same for both legs of a tie, meaning a Bayern fan at the Emirates pays the same amount an Arsenal fan pays at the Allianz Arena. And more pointedly, a fan from a really small club further afield in Europe pays the same amount at, say, Old Trafford that a Man United supporter has to pay for the return fixture.
Bayern's supporters also say that the "most promising approach" toward solving the problem of escalating ticket prices would be the reintroduction of standing areas. It will be interesting to see if protest and boycotts, which often work across club divides in Germany, can work across borders in Europe. And of course, if those demonstrations lead to more clubs like Hoffenheim that will admit to having overshot the mark when they know there are people willing to pay £64 for a ticket. Or even €110.
Uli covers German football for ESPN FC and has written over 400 columns since 2002.