Steven Fletcher hopeful of long-term Ligue 1 stay with Marseille
Steven Fletcher says he hopes to do well enough during his loan spell in France to earn a long-term contract offer from Marseille.
Fletcher, 28, joined Marseille from Sunderland in a deadline day transfer and he made his debut as a substitute in their 2-1 loss against Paris Saint-Germain last weekend.
The Scottish international is in the final year of his contract at Sunderland and he is out to make a big impact during his time in the south of France.
"I am in a situation with my contract that I'm up in the summer with Sunderland," he told reporters during his first press conference as a Marseille player.
"I had the opportunity to come over here on loan for the remainder of the season so it's a great opportunity for me to show what I can do.
"And then if I can impress at Marseille and they can offer me a contract then that would be fantastic for myself.
"But I have to obviously work hard on the pitch -- that's the main thing."
Fletcher could be handed his first start against lower league Trelissac in the last 16 of the Coupe de France after being included in the match day squad alongside former Arsenal midfielder Abou Diaby, who could make his long-awaited return to action.
The former Hibernian, Burnley and Wolves forward said he "didn't think twice" about making the switch is now hoping to get more game time than he did under Sam Allardyce at Sunderland.
"Obviously the situation I was in in Sunderland was a bit difficult," he said. "With my contract being up, the manager wanted to bring new players in on longer contracts.
"So when I come here I'll just train hard and hopefully the manager will have to pick me."
Joey Barton, one of a handful of British players to have played for Marseille, tipped Fletcher to be a success in Ligue 1 under the right circumstances.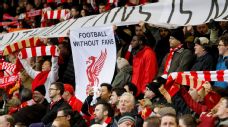 The Scot is also following in the footsteps of other former Marseille players who moved from English football such as Tyrone Mears and Chris Waddle.
"I spoke to Joey actually on the phone last night by text," Fletcher said. "He just welcomed me here and says I should embrace it and enjoy every minute I'm here. So I'm going to do that.
"I've not spoken to Tyrone actually. I played with Tyrone Mears at Burnley for a while. He's a great player. I don't know what he was like when he was here but he was fantastic for us when we were at Burnley.
"Chris Waddle tweeted me as well so I can't complain with that."