Number of Ligue 1 promotion and relegation places to remain the same
A proposal to reduce the number of promotion and relegation places to and from Ligue 1 has been rejected by France's highest administrative court.
In July, the French Football Federation (FFF) overruled a decision of the French Football League (LFP) to cut the promotion/relegation places from three to two. The LFP appealed this decision to the State Council but on Wednesday the court ruled in the FFF's favour.
"This decision vindicates the FFF both in substance and in form," FFF president Noel Le Graet said in a statement.
"It recognises the FFF's full authority when the interest of French football is involved.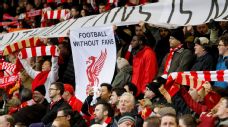 "The principle of three promoted teams and three relegated teams between Ligue 1 and Ligue 2 will remain as a result unchanged for the current season.
"This unnecessary procedure, which I deplored, is finally behind us."
The plan to change the number of teams promoted and relegated had been supported by 19 of the 20 top flight clubs, with the LFP arguing that it would give more certainty to investors.
Some Ligue 2 clubs, however, had threatened to go on strike over the issue.
The dispute eventually led to 19 Ligue 1 clubs quitting the country's union of professional sides to set up a rival group called the "Premiere Ligue."