Barcelona's Lionel Messi likely easier to sign than Neymar, says PSG's Silva
Paris Saint-Germain defender Thiago Silva believes his club have a better chance of signing Lionel Messi or Cristiano Ronaldo than bringing Neymar to the Parc des Princes.
Barcelona star Messi, 28, and Real Madrid's Ronaldo, 30, have have won the Ballon d'Or for the world's best player in each of the past eight years.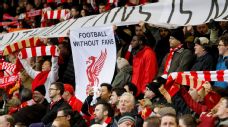 The 23-year-old Neymar is tipped by many to one day assume the title of world's best player, and countryman Silva expects Barcelona to do everything in their power to keep the young Brazilian at the Camp Nou.
"I like Neymar a lot, but I think Barcelona will not allow him to leave," Silva told France 3 on Thursday.
"It would perhaps be easier for Barcelona to let go of Messi. Could Messi come to PSG? Perhaps ... I mean, why not? Everything is possible...
"A move for Cristiano Ronaldo? He is a player who makes the difference for Real Madrid. If he would be open to joining PSG, to help us and to make the difference for PSG..."
Messi lifted his record fifth Ballon d'Or trophy on Monday, topping Ronaldo and Neymar in the final voting.
Shortly after accepting the award, Messi affirmed his desire to finish his career at the Catalan club, seemingly ending any speculation that he is set to leave the Blaugrana in the near future.
"I've always said that I don't want to leave Barcelona," Messi said. "It's always the same response. My idea is I want to finish my career at home, and my home is Barca."