Fabio Coentrao determined to show world-class form at Monaco
Real Madrid full-back Fabio Coentrao says he wants to prove he is one of the best players in the world during the second half of his season on loan at Monaco.
Coentrao, 27, moved to the principality in August after Monaco's left-back Layvin Kurzawa departed for Paris Saint-Germain in a deal reported to be worth close to €25 million.
The Portuguese international joined Real Madrid in 2011 but fell well behind Brazilian defender Marcelo in the pecking order.
In October, he complained that he was the "ugly duckling" at the Spanish club because he felt unfairly treated by the local media.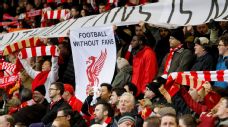 The former Benfica player's time in Ligue 1 has been curtailed by an injury he suffered the same month and he made only eight league appearances for Monaco before Christmas.
Coentrao scored twice and made one goal in those matches, however, and he says he has been happy with the experience so far.
But he also vowed to step up his game in the new year.
"I still have six months to prove my worth," he told Portuguese paper Record. "I want to do more and better in the next few weeks.
"I can get back to my best level and be newly recognised as one of the best in the world. That's why I left Real. I could have stayed and settled for what I had -- whether I played or not."
Monaco are currently second in Ligue 1, 19 points behind leaders and defending champions Paris Saint-Germain.
Used to at least a couple of teams battling for top spot in Portugal or Spain, Coentrao finds it odd that his new club are as high in the table despite their mixed results.
"Ligue 1 is a bit strange," he said. "We've had eight wins, eight draws and three defeats. We haven't been consistent but we're still second.
"What I mean to say is that there's a balance between a good number of teams, apart from PSG who possess players of a higher quality."