Lyon's Gomis and Briand ready to return
Remi Garde has no doubt Lyon outcasts Bafetimbi Gomis and Jimmy Briand are "100%" behind the club after being brought back into first-team training.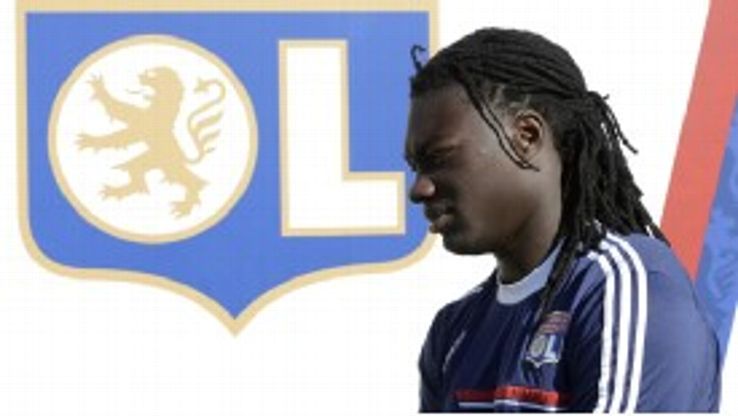 Gomis and Briand, both 28, were frozen out of the first team as OL sought to cash in on the two players this summer with a year remaining on their respective contracts. The France internationals even featured for the seven-time Ligue 1 champions' reserve side as the club tried to find a buyer.
However, despite approaches for both, neither was willing to leave the Stade de Gerland.
With the departure of Lisandro Lopez, Gomis, who finished as the club's leading scorer last season, could even play a key role this season with OL short of experienced forwards, and Garde is confident the duo will not wreak havoc within the squad, although he was unwilling to reveal what had been said between the three of them upon the players' return to training on Wednesday.
"That stays between me and them, if you'll allow. I saw them before training. Are they at 100% and ready to be part of the squad again? Yes," a tense Garde told the media, adding the pair would need to take advantage of the international break to get themselves into shape before they can hope to appear in Ligue 1.
"We have two full weeks ahead of us. We'll take stock after that. I'm very bad at estimates, just as I am at predictions. They're not injured -- they trained. I imagine that, after two good weeks, they won't be very far off, even if producing on the pitch is something different."
Briand's OL career hit the rocks after he rejected a move to Monaco last January, which provoked a press release from Lyon criticising their own player, while the club were keen to get some return on Gomis having paid €15 million to Saint-Etienne for him in 2009.
Club president Jean-Michel Aulas even went as far as to declare Gomis was no longer part of Garde's strategy, and threatened the player that he ought to seek a new employer if he harboured ambitions of playing at the 2014 World Cup.
The forward is particularly close to Bernard Lacombe, himself a former OL striker and coach and currently the advisor to Aulas. Lacombe, 61, told Lyon-based newspaper Le Progres the pair could yet make a significant contribution to a team that has been shorn of many of its most experienced elements.
"They remain leaders for the team. We'll need them," Lacombe said. "Jimmy has scored some important goals for us, and Bafe is a striker who scores between 15 and 20 goals a season. You can count those players on the fingers of a single hand in France. There's Falcao and Ibrahimovic, who cost an absolute fortune. Gignac is scoring now, but Bafe is more consistent."
However, he recognised the manner in which the players had been treated meant their reintegration would not be straightforward.
"It's like he and Jimmy have just arrived at the club. We're starting from a different point. At the start, it'll be complicated, because they have missed games and aren't up to speed. But the international break will be a good rest for those who've played too much and a bonus for those coming back."