France can't afford to omit Karim Benzema, says Zinedine Zidane
Real Madrid manager Zinedine Zidane feels that France cannot afford to leave Karim Benzema out of their Euro 2016 squad.
Last month Benzema, 28, was suspended from the national team indefinitely after he was charged with conspiracy to blackmail for an alleged role in an attempt to extort money from France team mate Mathieu Valbuena.
There are serious doubts about whether the case will be resolved both in time and in a fashion that would enable the Real Madrid striker to feature at next summer's tournament.
Benzema has denied any wrongdoing and the controversy does not appear to have had much impact on his form.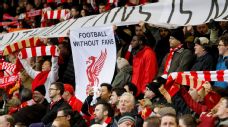 Playing in his 300th game for the Spanish club on Sunday, he took his tally for the season to 20 goals in 19 matches in all competitions by scoring a brace as Real hammered Sporting Gijon 5-1.
Zidane, 43, had supported Benzema in the Valbuena affair long before he replaced Rafael Benitez as Real's manager, after which Benzema thanked the former France international for being like "a big brother" to him in Madrid.
Asked again after Sunday's game about Benzema's future with France, Zidane said he is not a player his country can ignore if the hosts want to win Euro 2016.
"To respond clearly, no, France can't allow themselves to do without a player like Benzema," the 1998 World Cup winner told reporters.
"When you see his stats, what he does on the pitch, you don't want to do without a player like that when you have the possibility of having him in the team.
"With Madrid it would be difficult for me to do without a player like Karim.
"In addition to the goals he scores, he's just impressive at every level because he's able to link up with and play with everyone. Not everyone can do that."
Benzema went off midway through the second half in the win over Sporting Gijon but Zidane said afterwards that the injury was "just a knock."
Unsurprisingly, the former Real Madrid midfielder said the club were not contemplating offloading Benzema in the wake of his off-field situation.
"The more goals he scores, the better for us," Zidane told reporters.
"I don't think he's thinking about anything else when he's out there on the field.
"We're not going to lose him, nor do we want to move him on."