Karim Benzema: France boss Didier Deschamps supports me despite snub
Real Madrid striker Karim Benzema believes he still has the support of France manager Didier Deschamps despite becoming embroiled in the Mathieu Valbuena blackmail case.
Benzema, 27, was charged last month as part of an investigation into an alleged attempt to extort money from Valbuena, his international teammate, using a sex tape.
Both players were left out of France's squad for November's friendlies against Germany and England, with Benzema's chances of featuring in Euro 2016 now under serious threat.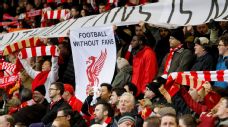 The French Football Federation (FFF) will hold a news conference on Thursday during which they are expected to address the controversy.
Benzema says he is not guilty of any wrongdoing and is hopeful that Deschamps will still keep him in mind as he tries to clear his name in court.
"I had messages from him when he named the squad," Benzema told TF1 programme Telefoot. "We talked via text message. He's behind me and he supports me. I talk often with him."
Benzema scored twice in Real Madrid's 4-1 win over Getafe on Sunday -- his first goals since news of his involvement in the Valbuena case broke.
Part of TF1's interview was broadcast last Wednesday, during which Benzema explained why he had suggested to Valbuena that his childhood friend could intervene to help ward off the people trying to blackmail the Lyon winger.
Valbuena, 31, told Le Monde recently that he was "more than disappointed" by Benzema's behaviour after wiretap evidence was leaked to the media.
But in further extracts from the TF1 interview broadcast on Sunday, the Real Madrid player said he had nothing against his France teammate and that he hopes they can both play for France again.
"Of course, that's my wish and I think it's the wish of a lot of people who like football," Benzema said. "Because he's a good player and France need him like they need me."
Meanwhile, former France international Zinedine Zidane hopes that Benzema will be included in the host country's squad for Euro 2016 next summer.
Zidane, who is currently managing Real Madrid's reserve side Castilla, said he hopes rumours that FFF president Noel Le Graet will provisionally suspend Benzema until the court case is settled are not true.
"I hope for the French team and for the player that that won't be the decision that will be taken," he said after Real Madrid Castilla's game on Sunday.
"A player like Benzema is an important player who can bring a lot to the team and I only take into account the sporting aspect.
"I hope that we'll only look at the aspect and that his personal matter is settled quickly -- that's the most important thing.
"In sporting terms, to leave out a player like that could be difficult."