West Ham midfielder Dimitri Payet struggles to understand France snub
West Ham star Dimitri Payet feels his omission from the France squad is an "injustice."
Since moving to England this summer, the former Marseille playmaker has scored four times and got three assists in his first eight Premier League matches.
Payet's form has helped lift the Hammers to sixth in the table and follows a strong final season in France when he chalked up an impressive seven goals and 16 assists in Ligue 1.
The former St Etienne and Lille player has already said he finds it difficult to understand the decision of France coach Didier Deschamps to leave him out of the squad.
Deschamps told Payet he expects more from him, before later saying the player "has the right not to understand" what is required.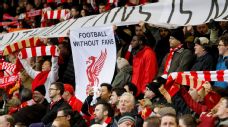 With Euro 2016 getting ever closer, Payet once again expressed his frustration at not being in his national team's plans.
"I feel it as an injustice, yes," he told L'Equipe. "I've been playing the best I've ever played in my career for more than a year now, even if I can still make progress.
"So for me it's unfair not to feature in the French team."
Payet, who accepted his personality can be difficult, said it was partly his fault for not being able to bear what is expected of him. He said he had no problem with Deschamps but feels that he has not been given a fair chance.
"You have to know how to take me as I am," he said. "If you ask all the people who've coached me, I don't think they're going to say to you 'Dimitri is an idiot.'
"The thing that I'm not able to digest is the injustice."
Payet said he is able to concentrate on his club football rather than worry about the situation, adding that he is living "a dream" in England.
Having started his professional career at Nantes in 2005, he believes he might not have coped with the higher intensity in the Premier League when he was younger.
The set-piece specialist says he only agreed the move to West Ham when new Hammers boss Slaven Bilic told him about the style of football they would play.
"I said to the coach 'If I join and balls are passing over my head, I won't be much use.' He reassured me about the project that he wanted to put in place.
"We have quality up in attack. We're still having difficulty playing football in some matches but we're improving."