Franck Ribery may return - FFF chief
French Football Federation president Noel Le Graet is convinced Franck Ribery will make a U-turn on his decision to retire from international football.
- Ribery explains France retirement
- Laurens: Remembering Ribery with Les Bleus
- Robben plays on for Netherlands
In an interview with kicker in Germany, Ribery, 31, declared that after eight years of playing for France at senior level, he would no longer represent his country, halting his caps tally for Les Bleus at 81.
The Bayern Munich star also stated his decision was irreversible and that he had talked to France coach Didier Deschamps, whom Ribery claimed had accepted his decision.
However, FFF boss Noel Le Graet, 72, published a press release on the governing body's official website on Thursday stating that he felt Ribery, who missed the World Cup due to a back injury, may reconsider.
"This kind of decision-making process, for such a talented player, is the fruit of individual analysis and cannot be taken as definitive while his professional career still has many good years left," Le Graet's statement read.
"Franck loves the French national team, and has shown his attachment to the blue shirt. He's also a born competitor, destined to play the biggest international competitions. He has to, necessarily, do that with the French national team. Therefore, I am convinced he will reconsider his position if he gets back to peak form."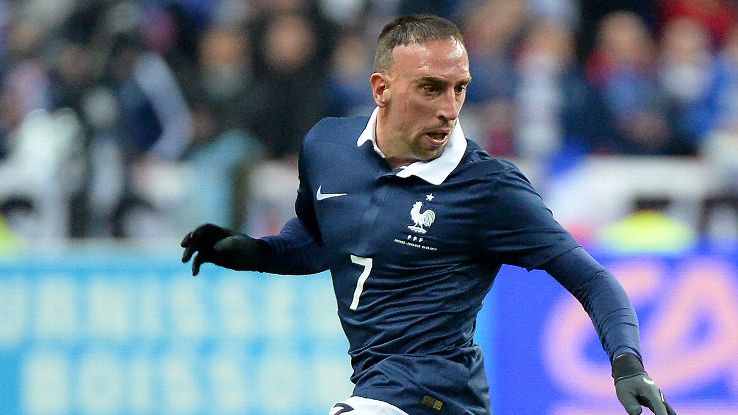 The final decision could come down to Deschamps, who could still call up the former Galatasaray and Marseille midfielder for Les Bleus' upcoming friendlies against Spain and Serbia in early September.
The squad will be announced on Aug. 28, and should Ribery's name be listed and the player fail to report for duty, he would face being suspended with Bayern. Le Graet suggested Deschamps may leave Ribery with a dilemma.
"This decision also belongs to the national team coach, who guarantees the France team's interest," he said. "How can the France team do without one of its best players if he gets back to his best form in one of the biggest clubs in the world?
"How can Les Bleus deprive themselves of one of their major leaders with a great event in Euro 2016, which will be organised in France, on the horizon?"