Vieira: Pogba still has work to do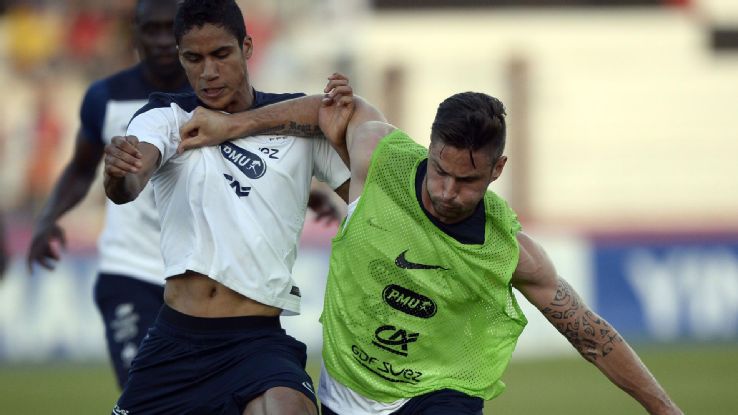 Patrick Vieira believes there are still improvements to be made in "certain sectors" of France international Paul Pogba's game.
- Laurens: Five reasons France will win the World Cup
- Pogba says he'll never be a star
Pogba, 21, is expected to form part of Didier Deschamps' three-man midfield as Les Bleus begin their quest for a second World Cup title against Honduras on Sunday.
The Juventus youngster has impressed many, not only with his play but also with his maturity on and off the pitch, and he made a significant contribution as the Bianconeri defended their Serie A crown last season.
However, former France and Juve player Vieira believes Pogba remains far from the finished article, and backed the decision of Deschamps to publicly criticise his game following last month's friendly win over Norway.
"[Deschamps] did it, just as [Pogba's] coach [Antonio Conte] at Juve did it," Vieira told RMC. "That's [Deschamps'] role so that he doesn't get too carried away too soon. He still has to improve certain sectors of his game. At his age, he's an extraordinary player with enormous potential.
"I know him personally and I like him a lot because he has his head on his shoulders. He is going to become a great player for the French national team and also on the world stage."
Vieira himself played a role in both France's 1998 World Cup- and Euro 2000-winning campaigns.
He also helped the nation surprisingly reach the World Cup final in 2006, and feels that Les Bleus could once more raise eyebrows in Brazil.
"Brazil, Argentina, Spain and Germany are favourites in this World Cup. There are surprises like Chile. France could also be a nice surprise," the former Arsenal man, who won 107 caps for France, said.
"The important thing is confidence, to believe in the squad, to create a bloc that is going to enable them to overcome difficult times. And there will be some. There is talent, quality, and the coach, so the important thing is confidence."