FIFA relieves Jerome Valcke of his duties after allegations of ticket sales
FIFA released secretary general Jerome Valcke from his duties on Thursday following allegations that he took part in a deal to sell 2014 World Cup tickets well above face value.
In a statement, FIFA said Valcke "has been put on leave and released from his duties effective immediately until further notice.
"Further, FIFA has been made aware of a series of allegations involving the Secretary General and has requested a formal investigation by the FIFA Ethics Committee."
It was unclear who made the decision to suspend Valcke, who is Blatter's personal choice as his right-hand man at FIFA headquarters. The ethics committee declined to confirm if an investigation of Valcke is ongoing.
"The panel points out that -- as a matter of principle -- it will analyze all information that is brought to its attention of its own accord,'' it said in a statement.
Valcke was due to step down in February alongside his mentor Blatter. The 55-year-old Frenchman's main duty is overseeing organisation of the world's most-watched sports event, which earned FIFA around $5 billion for the 2014 tournament in Brazil.
FIFA's announcement came hours after a former FIFA ticketing partner made allegations about selling top-tier World Cup tickets above face value. A statement from Valcke's US-based lawyers said he denied all the accusations.
Benny Alon, a former player who worked for a Swiss company called JB Sports Marketing, released emails and a contract to 10 newspapers across the world, detailing an alleged deal with FIFA in which World Cup tickets would have been sold at three or four times face value.
The Israeli-American also made an unproven allegation that Valcke had been prepared to profit personally from the deal.
The contract, signed by Valcke in 2010, gave JB Sports Marketing tickets to 12 of the tournament's elite matches while also forcing them to buy tickets to the 12 least-appealing matches, for which they would not be able to sell tickets at a profit. JB Sports received 8,750 tickets for the best seats for each World Cup from 2010 to 2018.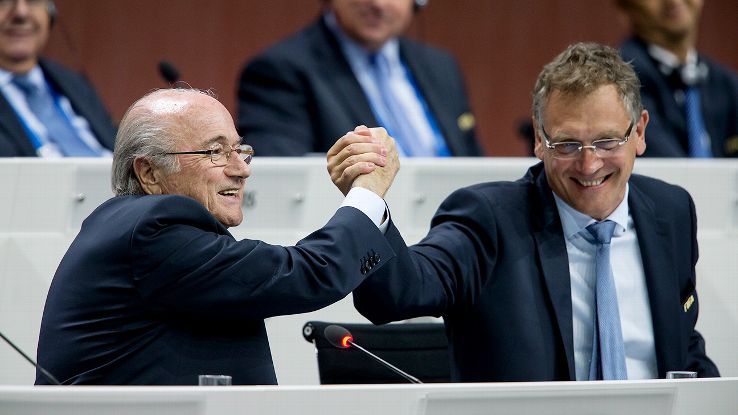 According to the emails, Valcke learned in April 2013 that tickets were being resold well above their initial price -- against Brazilian law -- but the contract was not revised until eight months later.
The deal collapsed after Valcke realised that FIFA already had a contract with another company, Match, to provide officially licensed hospitality for the games. The emails say Valcke told Alon to deal with Match instead of FIFA.
"You, we, have no choice," Valcke allegedly wrote in December 2013. "Otherwise the deal will be canceled by FIFA or we all face as individuals criminal offense. It is not a joke. It is very serious.
"So avoid too many advice. Just do it if I may say using a slogan from one company involved. All is clear and has to be finalized now. Thanks. Jerome."
But by that time Alon had already sold tickets that he never received from FIFA.
Alon told Valcke that 50 tickets for a knockout-stage match with a face value of $230 sold for $1,300 each. And 600 tickets for Germany's first-round game sold for three times their face value of $190, for a total profit of $114,000 on each of Germany's games.
"We are doing better [than] the NY Stock Exchange," Alon wrote.
Valcke's lawyers proclaimed his innocence in a statement, saying: "Jerome Valcke unequivocally denies the fabricated and outrageous accusations by Benny Alon of alleged wrongdoing in connection with the sale of World Cup tickets."
"Mr Valcke never received or agreed to accept any money or anything else of value from Mr Alon. As has been reported, FIFA entered into an agreement with Mr Alon's company, JB Sports Marketing.
"That agreement and FIFA's subsequent business dealings with Mr. Alon were vetted and approved by FIFA and its legal counsel."
Valcke rose to the top administrative job at FIFA soon after being fired in 2006 during a scandal. As marketing director, he was implicated in misleading World Cup sponsor MasterCard during contract renewal talks.
FIFA and Blatter eventually signed with Visa, provoking a legal suit from MasterCard which football's governing body settled for $90 million. Valcke's conduct and business ethics were severely criticised by a New York judge who heard the case.
FIFA fired Valcke and other marketing officials involved in the deal, then re-hired him several months later as secretary general after Blatter was re-elected president.
FIFA has been in crisis since the federal investigations of bribery and corruption implicating senior soccer officials were revealed in May.
Valcke was identified as having processed transfers of $10 million from FIFA accounts which were alleged by the U.S. Department of Justice to be bribes for CONCACAF officials to support South Africa's successful bid to host the 2010 World Cup.
FIFA and Valcke said the payments were authorised by then-finance committee chairman Julio Grondona, after being requested by South African officials to be paid from their tournament organisation funds.
Still, Blatter announced his planned resignation on June 2, the day after FIFA and Valcke's role in the affair was revealed.
Blatter has said FIFA's troubles stem from the December 2010 decision to award Russia and Qatar hosting rights to the 2018 and 2022 World Cups, respectively. Valcke has been blamed for urging FIFA in 2008 to run a dual bidding contest, in order to secure long-term commercial security amid economic downturn.
However, the twin blockbuster contests fueled allegations of deal-making and voting pacts, which are now being investigated by Switzerland's attorney-general in a case likely to take several years.
Information from The Associated Press was used in this report.