World Cup prize money 'inadequate'
The treasurer of the German FA (DFB) has criticised FIFA prize money as "inadequate" after the country's most expensive tournament ever.
- Low to stay on as Germany coach
- Germany damage World Cup trophy
Germany, who won the trophy with a 1-0 victory over Argentina in the final, received 25.7 million euros from football's world governing body, while their opponents picked up 18.3 million euros.
Reinhard Grindel told Welt am Sonntag that, considering world football's governing body had made an estimated 1.6 billion euros from the tournament, he felt those who had reached the latter stages had not been sufficiently rewarded.
"Whoever creates a professional organisation and contributes to the success of the tournament should be appropriately rewarded financially," he said.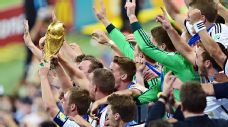 "We would have made a small profit if we had finished as runners-up. However, I think the dividends paid by FIFA to those participants in the closing stages of the tournament are not adequate."
Each of Germany's 23 players received 300,000 euros for the win in Rio de Janeiro, while coach Joachim Low and his staff shared around two million euros.
Those bonuses, the team's Campo Bahia base camp, the charter flights to transport the team around Brazil and hotel costs contributed most to making the 2014 tournament the most expensive for the DFB.
With a total outlay of some 22 million euros -- around three million euros more than was spent in South Africa in 2010 -- and having to share its profit from the tournament with the German Football League, the DFB made barely two million euros.
"We didn't live the high life, but very exactly counted and calculated. By its sheer size, Brazil is an expensive place with considerable logistical requirements," Grindel said, adding that the money made would be invested in a number of areas including amateur football.