Germany parade World Cup in Berlin
Hundreds of thousands of fans welcomed Germany's World Cup-winning players as they paraded the trophy through Berlin to the Brandenburg Gate on Tuesday.
Their highly anticipated return to home soil after Sunday's 1-0 win over Argentina at the Maracana was broadcast live on TV and radio stations throughout the country, with some channels airing special shows throughout the morning.
On the streets of Berlin, the "fan mile" in front of the Brandenburg Gate was jam-packed several hours before the team landed in the capital at 10 a.m. local time and was closed half an hour later after reaching its capacity of 300,000.
Now this is how you take a selfie (via @Podolski10) pic.twitter.com/PYjlWJoBgw

- ESPN FC (@ESPNFC) July 15, 2014
The route of the players' open-top bus parade took them through the northern districts of Berlin to the centre.
At a Berlin district court, a judge suspended the trial of a 43-year-old alleged crystal meth dealer -- which has been making headlines in Germany because of the alleged involvement of a member of parliament -- for several minutes so those in the courtroom could watch the coach pass, Berliner Zeitung reported.
Back at the fan mile, World Cup record goal-scorer Miroslav Klose's twin sons Noah and Luan, watching from the VIP stands, were cheered by the fans.
At 12.30 p.m. the squad arrived, signing their names in the city's Golden Book before taking the stage in front of the Brandenburg Gate.
"We are all world champions," Germany coach Joachim Low said.
"This is just outstanding," forward Lukas Podolski added.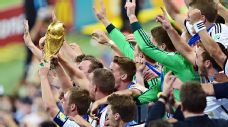 Midfielder Toni Kroos encouraged the crowd to sing, "Miroslav Klose, you are our best man," with the 36-year-old striker appearing highly likely to retire from international football.
"We've seen each other here in 2006, and it was great back then," midfielder Bastian Schweinsteiger told the fans, looking back to the celebrations for Germany's third place in the World Cup they hosted. "But now we have the fourth star [for a fourth World Cup win]."
Vielen Dank auch - nochmal und nochmal und nochmal - an Euch Fans. Ihr wart einfach weltmeisterlich! #aneurerseite pic.twitter.com/DioVtINsVp

- DFB-Team (@DFB_Team) July 15, 2014
The fans revelled in the occasion, with one, 25-year-old Luise from Berlin, saying: "I had not been to the fan mile before. But today, I couldn't have stayed at home; I would have never forgiven myself. It was really cool."
Another group of fans had traveled all the way from Hannover. "It's my birthday tomorrow, but it won't get any better than this," said Sascha, 28.
Marvin and Arian, two young teenagers who attended, said the day had been "amazing" but that it had also been "rather difficult to follow it all since we are still so small."
"We celebrated the World Cup win with firecrackers on our balcony," said Arian, who plays in midfield for local club FSV Berolina Stralau 1901. "We were tickled pink, and we just had to be here today."