Germany to release World Cup stamp
The German ministry of finance is to release a stamp commemorating the 2014 World Cup triumph, it was announced on Monday.
- Germany earn $35 million win bonus
- German media praises "Jogi-bonito"
On July 17, four days after Germany lifted their fourth World Cup, a special 60 cent stamp, designed by Lutz Menze from Wuppertal, will be published to celebrate the victory over Argentina in Rio de Janeiro.
Die Sonder-Briefmarke zum deutschen WM-Titel: pic.twitter.com/DE0Ybu5xzY

- Stefan Leifert (@StefanLeifert) July 14, 2014
"Germany has won the 2014 football World Cup -- a remarkable success which we are celebrating by issuing a special stamp," finance minister Wolfgang Schauble said.
"Having previously won the title in 1954, 1974 and 1990, the German Football Association is now close on the heels of five-times champions Brazil.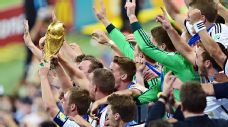 "This year, I started hoping very early on that our team would win the Cup -- and I suspect many other Germans did as well.
"It is fantastic that the German team was able to make this dream come true, and I hope that the stamp will remind people on a day-to-day basis of the great joy that the team brought us."
The stamp will be presented to the players, coaching staff and the rest of the Germany delegation on the day of its release.