Jupp Heynckes: More awaits Germany
Jupp Heynckes has said he believes Germany's World Cup-winning players have more golden years in front of them.
After Joachim Low's side clinched the trophy with a 1-0 extra-time victory over Argentina, the former Bayern Munich coach praised them as "great ambassadors" for their country.
"Germany were the best team overall -- they were well organised, had very good body language and looked altogether perfect," Heynckes, who led six of the World Cup starters to Champions League final glory in 2013, told kicker.
"Germany has a great generation with a unique charisma. Those players are great ambassadors for their country.
"And the cycle for this team has not ended. Most of the players still have a few years in them: [Marco] Reus, [Mario] Gomez, and [Ilkay] Gundogan will return, while some young players like [Erik] Durm and [Matthias] Ginter were already part of it."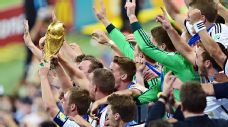 Ottmar Hitzfeld, one of Heynckes' predecessors at Bayern, also stressed the fact that he felt a true team had won the title.
Hitzfeld, who retired from coaching after his Switzerland team lost narrowly to Argentina in the round of 16, told the paper: "The Germany team has absolutely deserved the title.
"The World Cup project was perfectly planned, the training camp, everything -- the Germans did a great job. Jogi Low formed a unit, and he was also able to steady the defence."
Bixente Lizarazu, a 1998 World Cup winner with France and a former Bayern player, said: "Alongside Spain, Germany have played the most beautiful and best football for the past six years.
"It's normal that a generation like this eventually wins a big title. The time was now. [Mirsolav] Klose, [Philipp] Lahm, [Bastian] Schweinsteiger had no time left to waste to write history."
Horst Eckel, the last survivor of Germany's 1954 World Cup-winning team, said: "The time had come to finally win the World Cup again. It's a great success for Joachim Low and his Nationalmannschaft."
The World Cup success will also have a huge impact on the domestic league, with nine of the 11 German starters on Sunday having played for a Bundesliga club last season.
"I am proud of the lads and this fantastic performance. It was great to see how they all celebrated after the final whistle," Borussia Dortmund coach Jurgen Klopp told his club's official website.
"Now we are looking forward to welcoming our world champions here in Dortmund."
Bayern Munich sporting executive Matthias Sammer told the club's website: "What an incredible triumph. I am delighted for the Germany team, for Joachim Low and the seven World Cup winners from FC Bayern. It's an outstanding and well deserved success for our team."
Borussia Monchengladbach coach Lucien Favre, who developed the talent of Christoph Kramer, told the club's site: "Germany play excellent football and I am delighted they have got their reward.
"That, with Christoph Kramer, we have a Weltmeister in our squad now is unbelievable. It shows you can't plan your career."