Low: Referee must stop 'brutal' fouls
BELO HORIZONTE -- Germany manager Joachim Low said he hopes referee Marco Antonio Rodriguez will clamp down on rough play when his side faces hosts Brazil in Tuesday's World Cup semifinal.
Speaking at his pre-match news conference, Low said that the physical play he witnessed in Brazil's quarterfinal victory over Colombia "went beyond the limits" and that he doesn't want to see a repeat of those tactics.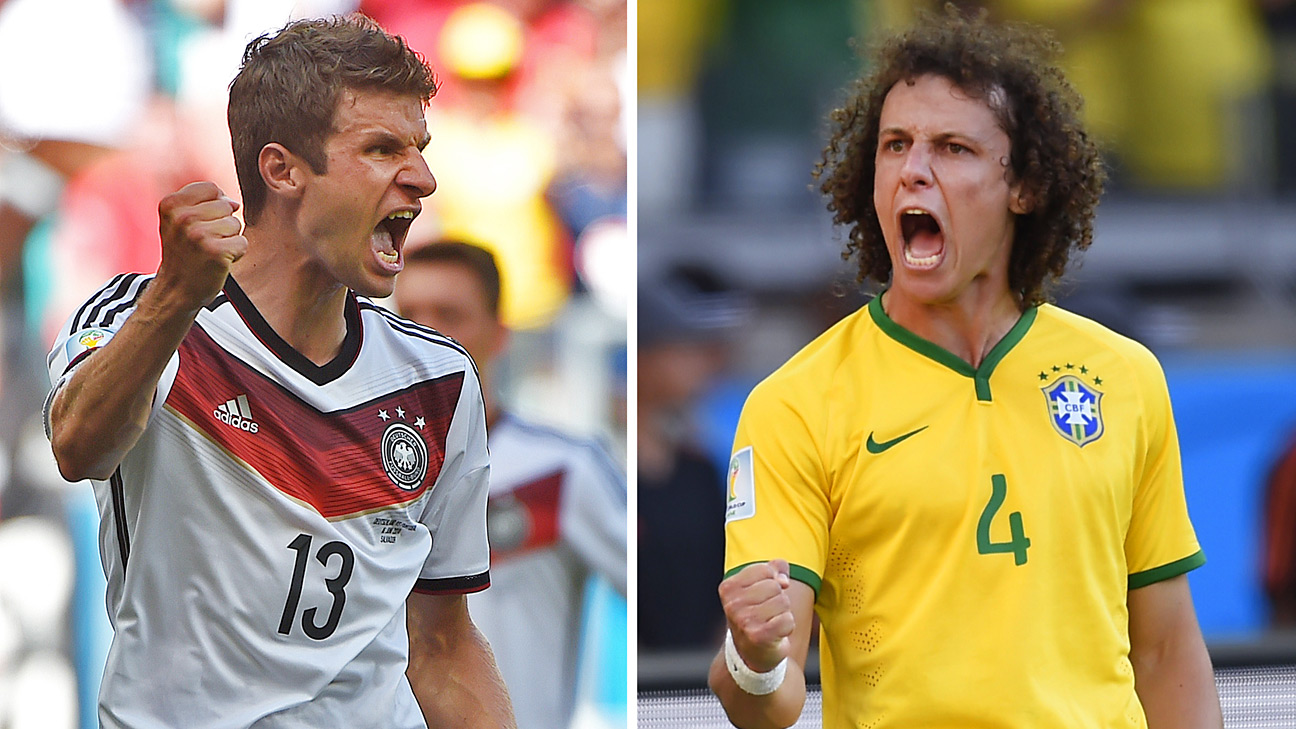 That particular game witnessed a total of 54 fouls, with Colombian attackers James Rodriguez and Juan Cuadrado fouled six times each. It wasn't all one-way traffic either in terms of physical play, as Brazilian star Neymar suffered a fractured lumbar vertebra thanks to a knee in the back by Colombia defender Juan Camilo Zuniga, and will miss the remainder of the tournament.
"When I saw this match, in Europe all 22 players wouldn't have finished that match," he said through an interpreter.
"There were brutal fouls, tough fouls, and this physical type of play, and this blocking of the opponent with all possibilities, this has been exaggerated and this is what we see and observe on the pitch. I believe that we will have to see these really brutal fouls, that they are stopped."
Low went on to express concern that if the physical play is allowed to continue that creative players like Neymar, Mesut Ozil, Mario Gotze, Marco Reus, and Lionel Messi will soon disappear.
"We will have other types of players who will go out to destroy," he said. "This is a World Cup under the general heading of dynamism and physical force. But I have seen matches where the limits of what should be tolerated have been surpassed."
One factor that could see a reduction in physical play is that with the quarterfinal stage now complete, all yellow cards have been wiped out. Rodriguez then might be more willing to issue some cautions if matters start to get out of hand. But looked at another way, with no threat of suspension for the final, players might be inclined to push the limits.
There has been a sense that referees have been somewhat unwilling to hand out cautions in a bid to avoid yellow card suspensions, but Low stopped short of saying referees have been lenient at this World Cup.
"I don't think one can make sweeping statements right here because we had matches that went well and were played in the normal pace," he said.
"But the last match, Colombia and Brazil, that was a real fight, numerous fouls from all sides. Not just that one foul against Neymar, but many other things as well.
"I think the effective playing time was 38, 39 minutes, so there were so many breaks. I don't think the players and fans are so fascinated if the match is constantly stopped. It doesn't develop a good match."
As for Tuesday's match, Brazil will not only be without Neymar, but also captain Thiago Silva who is suspended. Some elements of the Brazilian media have stated that the two absences mean Germany are now favorites, but Low dismissed such talk, especially given the quality of Chelsea midfielder Willian and Bayern Munich defender Dante, the likely replacements for Neymar and Silva.
"The absence of Neymar or Thiago Silva would be a disadvantage for Brazil," he said.
"But I believe Dante is going to play and you cannot expect that Dante will deliver a bad match against Germany. He is an excellent player and other players will feel liberated.
"You have in each and every team that suddenly strong players are missing and then the other players will have to accept more responsibility. I'm certain the others will be on the pitch fighting for Neymar, fighting for the nation to make sure Brazil remains a favorite in this final phase."
Low added that the Brazil's role as the host nation cements its status as favorites.
"You have Brazil playing with 200 million fans across the country," he said.
"So they're not just playing here on the pitch, it's the whole country, unleashing the energy of a whole country, and this is something unique for a team."
Jeff Carlisle covers MLS and the U.S. national team for ESPN FC. Follow him on Twitter @JeffreyCarlisle.