Pepe Reina: Spain exit may be for best
Pepe Reina says he hopes Vicente del Bosque stays on as Spain manager, and that the lessons learned from failure at the 2014 World Cup could make the team even better in the future.
- Alvarez: Five things Del Bosque got wrong
- Three Points: Old Guard rally for Spain win
Defending champions Spain had a disastrous tournament in Brazil, losing 5-1 to Netherlands and 2-0 to Chile to be eliminated in record time, leading to widespread calls for the building of a new La Roja side for the future.
Del Bosque, 63, has refused to say whether he plans to stay or go, repeating through recent days that he will soon talk with the country's football association [RFEF] and make a joint decision with the best interests of Spanish football in mind.

Australia

Spain
Game Details
Speaking after making his only appearance of the tournament in Spain's 3-0 victory over Australia in their final group game on Monday, Reina claimed to AS that the experience in Brazil could actually turn out to be a positive going forward.
"I hope [Del Bosque] continues," Reina said. "Sometimes bad things can be a positive, even better than good things. Maybe he has learned more from this World Cup than the previous one."
While veterans such as David Villa, Xavi Hernandez, Xabi Alonso and Iker Casillas are now expected to retire, Spain could now look to bring in a new generation of talent including Bayern Munich's Thiago Alcantara, Manchester United's David de Gea and Real Madrid's Isco and Jese Rodriguez ahead of Euro 2016.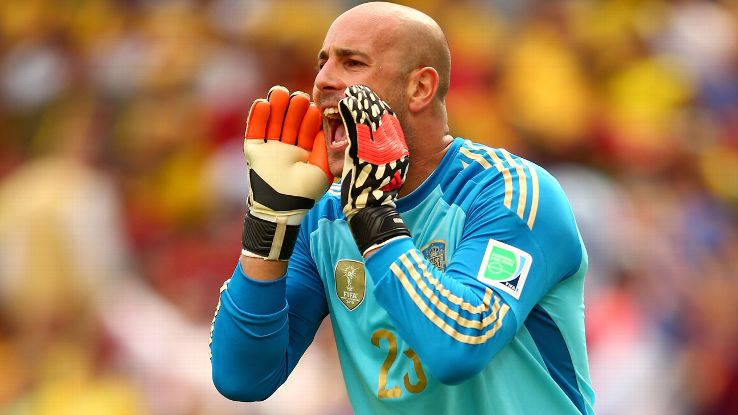 Reina said he was hopeful Spain would bounce back quickly from their disappointment in Brazil, and be back at their previous level when they begin their qualification bid for the European Championship with a home game against Macedonia at Levante's Ciutat de Valencia stadium on Sep. 8.
"We hope that this was just an accident," the Liverpool goalkeeper said. "Time will tell if we are right or not. I hope the team reacts and regains its personality. This World Cup they have been better than us. We must be back at the level needed in September."