Modric's star shines ever brighter
A week or so before the Champions League final, Real Madrid's Gareth Bale took a conference call from a number of British journalists. It was organised by one of the Welshman's sponsors, an attempt to milk the interest in the world's most expensive player as he awaited the biggest game of his career.
The usual questions came up: about the pressure, the expectation, how much he knew, how much he understood of Real Madrid's quest for . Bale, as he always does, straight-batted every one. He has a remarkable ability to take any question and interpret it in such a way that his ultimate answer is that he is looking forward to his next game and hoping to play well and just wants to get the win.
The conversation was winding down when one reporter asked how his Spanish is coming along. Not bad, said Bale, not bad, thanks to the classes he is attending with his team-mate Luka Modric.
Bale and Modric sitting in a classroom, conjugating their verbs: it is the sort of image that appeals to newspapers, a little splash of humanity, a snapshot of what life is like outside the training ground. It duly appeared in several of the subsequent interviews.
It also served to feed the role assigned to Modric this season -- certainly in Britain -- as the country the Croatian called home for four years. He has been cast almost exclusively as an adjunct to Bale.
Before the two had even been reunited in Spain, it was Modric who was coaxing him into coming. When the 86 million pound deal went through, it was Modric who lubricated his introduction to Real's notoriously political dressing room. It was Modric who acted as his translator and tour-guide. Now it was Modric as fellow student, no doubt carrying his companion's bags to class, checking over his homework, showing him where his locker is.
Later, the decima secured, it would be Modric who took Bale out until 8am the following day.
There have been times when it seems Modric exists purely in relation to Bale. This perception is unfortunate, because anyone who watched Real as they marched towards victory in the Champions League and Copa del Rey will confirm that Modric is considerably more than that.
This summer, as he bids to help Croatia make an impact in Brazil, he has the chance to prove it. No club distorts reality more than Real Madrid. It is a place where so many stars shine bright in the sky that only the most brilliant seem to have any light at all.
The best example, perhaps, dates back beyond the era of the first galacticos, the team that would eventually include Zinedine Zidane and Raul and Luis Figo and the man referred to in some parts -- in order to separate him from his fellow Lusophone and near name-sake -- as Ronaldo (Fenomeno). You know you're special when you have brackets in your name.
There was a fine example in that team, of course, in the form of Claude Makelele. Yes, Makelele was an excellent footballer, but by his very nature, he would never have been a star. His job -- the role that he performed so flawlessly that it will now forever bear his name -- was to clean up for others. It was to get the ball, and give it to someone better equipped to do something with it.
- #WorldCupRank: No. 32, Luka Modric
Fernando Redondo, on the other hand, was every inch a star. He was a sublime footballer, displaying elegance and grace in all that he did. He left Madrid for Milan in 2000, before Florentino Perez's lavish spending truly began, but he was at Real to win the Champions League on two occasions.
He was also there to inspire victory against the then-reigning European champions, Manchester United, at Old Trafford, producing a back-heel to beat Henning Berg which ranks as one of the finest pieces of individual skill the competition has ever seen. Redondo was hugely important at Real and was captain when they won the Champions League in 2000.
There were always others, though, who seemed to shine more brightly: Predrag Mijatovic and Davor Suker in 1998; Raul, Nicolas Anelka and Roberto Carlos two years later. Most other clubs would have given Redondo a job for life. Several would probably have retired his shirt. It would be a push to say that at Madrid he was just another player, but that they let him leave -- even considering the injuries that followed -- is testament to the trick of the light at play at the Bernabeu. Even the brightest beacon can seem dulled when all around it is blazing.
Much the same process is at play with Modric. It is easy to forget that Real paid Tottenham 30 million pounds for the Croatian -- as well as signing a co-operation deal between the two clubs which will no doubt be kicking in any day now -- in 2012 and that, prior to that deal, Chelsea had spent two summers trying to sign him and Paris Saint-Germain one; the common link there, of course, was the identity of their manager: Carlo Ancelotti.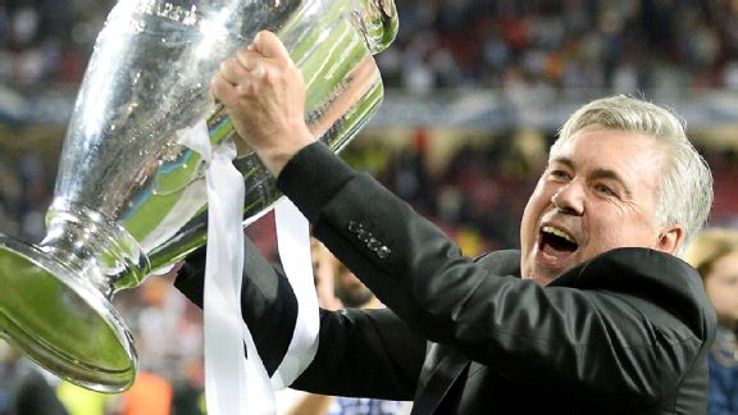 Like Redondo, at most other clubs, Modric would be the star; at Real, he is just another pinprick of light in the sky. The attention drifts naturally to Cristiano Ronaldo, to Bale, to Karim Benzema, to Xabi Alonso, even to Angel di Maria. Modric tends to be overlooked. Given how crucial he has become to their play, that is a considerable misjudgment.
There was a time, not so long ago, when such an assessment would have seemed far-fetched. It is only a little more than a year, after all, since a poll on Marca's website saw Real fans in their droves vote to choose Modric as the worst signing of the summer. Even as his performances improved at the tail end of last season, few would have complained had he -- not Mesut Ozil -- been sold to offset the capture of Bale.
Ancelotti, though, was adamant. He had spent three years trying to sign the Croat; he was not about to let him slip through his fingers as soon as he arrived in Spain. He has been rewarded, and amply. Modric has been integral to Real this season: he may not lead the league in goals or assists, but his pass completion ratio is extraordinary; so too the number of minutes he has played.
What has brought him to life is Ancelotti's intelligent use of his talents. Modric has always suffered, a little, from being misunderstood, in much the same way as a player like Juan Sebastian Veron was when he came to England, for example. Modric's size means he has always been seen as a no. 10, rather than as a pure central midfielder. Harry Redknapp, at Spurs, tended to play him wide on the left, because he did not believe he could thrive in the frenetic, physical struggle for control in the middle of a Premier League pitch.
It was the same when he arrived in Spain: there was a feeling that deploying him further back was shifting him out of his natural role. Ancelotti -- no doubt aided by all those years yearning for him -- ignored that received wisdom and played him on the right of a midfield three, with Alonso sitting deep and Di Maria, in recent months, just to the left.
He has been rewarded by watching Modric become, arguably, Madrid's most influential player. He shone in the Copa del Rey semifinal victory against Atletico Madrid; he was key to the destruction of Bayern Munich in Germany at the same stage of the Champions League.
He goes about his business quietly: perhaps that is the problem. He gets the ball, he gives the ball. He gets the ball, he gives the ball. He is, in that sense, a little dash of Barcelona in the heart of Madrid.
The most natural parallel with the way he plays now is with Xavi, but Modric has something different: as Ancelotti says, what marks him out is his capacity for "carrying the ball forward." He does not paint the same sweeping mandalas Xavi does.
It is tempting to think that the time he spent in England has taught him to move forward at all times; that is his first instinct, to get the ball and give it to someone who is closer to goal. That is what makes him such a threat: not just his invention, but his intent.
There is a curious fact about Modric: it would be difficult to find a player with a voice so ill-suited to his appearance. He is elfin, slight, and seems reserved, deeply shy, but when he talks, it is in a deep, sonorous baritone, the sort of tone that conveys natural authority. He has found his voice this year in Madrid.
Now another task awaits. Croatia do not have a Bale, much less a Ronaldo. The world already knows Modric is a star. The World Cup provides the stage on which he can prove he is fit to be the star.