WC Position Power Ranks: Forwards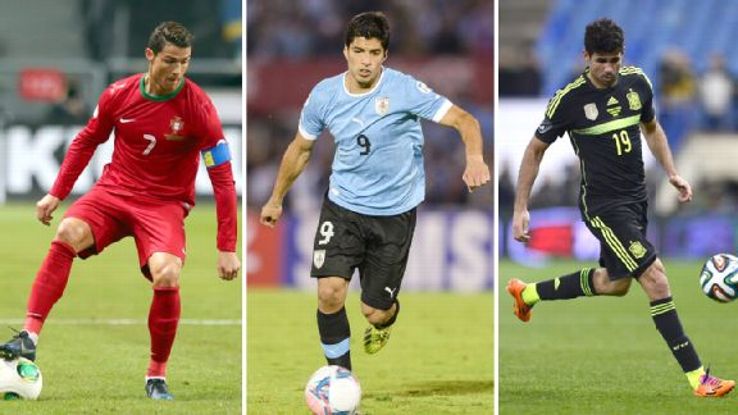 World Cup Power Ranks: Goalies | Forwards | Midfielders | Defenders
With so much emotion invested in World Cup success, the forward position is undoubtedly the most scrutinized among supporters of the 32 teams in the field. This is particularly true among those forwards who have shown particularly good form at the club level, as they now must prove they can remain lethal among a group of unfamiliar and, in some cases, lesser-quality teammates.
The best forwards at this summer's World Cup are all coming off impressive club seasons, and some have been equally impressive in World Cup qualifying, and this combined body of work certainly plays a part in assessing the power rankings at this position.
Based on each player's recent form (for both club and country), scoring ability and overall attention he commands from opposing defenders, here are my top 10 forwards heading into the 2014 World Cup.
1. Cristiano Ronaldo, Portugal (Club: Real Madrid)
Ronaldo's 31 goals for Real Madrid tied Liverpool forward Luis Suarez for the most across Europe's top five leagues this season, but the Portuguese striker needed three fewer appearances to reach that goal mark. Ronaldo also ranked second in Europe's top five leagues with 7.3 shots per 90 minutes, and second across Europe with 3.2 shots on target per 90 minutes. And given the location of his touches for both club and country over the last year, it is clear that the forward is poised to expand on his influence while playing with Portugal this summer.
Just 58 percent of Ronaldo's touches with Portugal came from the left side of the field, as opposed to 73 percent during the La Liga season. This is an indication of how important Ronaldo is to Portugal, as he led the team with 29.1 touches per 90 minutes throughout World Cup qualifying, and his eight goals in 10 World Cup qualifying appearances signal that he will be a force to be reckoned with this summer.
...