#WorldCupRank: No. 5 Franck Ribery
« Previous: No. 6 Neymar | Next: No. 4 Luis Suarez »
Editor's Note: In the time between the launch of #WorldCupRank and completion, Ribery has pulled out of the World Cup due to a recurring back injury.
No. 5 Franck Ribery, Bayern Munich/France
Why he's ranked: Quick feet, a fine tactical brain, experience and finishing power have made Ribery one of the most potent performers in European football for some time, and his importance to France at Brazil 2014 cannot be underestimated. He has come in for some criticism at Bayern Munich this season, but that will not deter Les Bleus coach Didier Deschamps from tapping into this left winger's reliable, incisive style of play.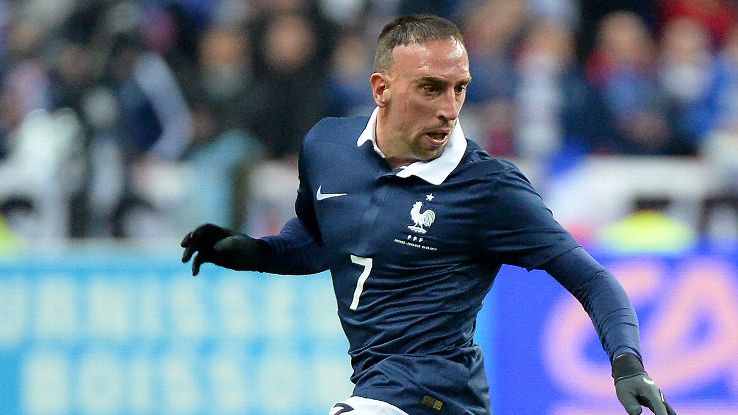 Key stat: Ribery led Bundesliga in assists in 2011-12 and 2012-13, with 13 and 14, respectively, and he is currently third in 2013-14 (10). He also finished second to Joao Moutinho with 6 assists during UEFA qualifying.
What the experts say: "[He is] the star for France, a team that improved a lot in the last months." - Gian Oddi, ESPN Brasil
"Every time he touches the ball, something happens. He was on fire last season with Bayern Munich. A bit less this year after some injuries, but his pace with the ball and his technical ability make him such a dangerous player. At 31, it is his time to shine on the big stage one last time." - Julien Laurens
Other articles:
- ESPN FC Blogs: France
- Julien Laurens: Les Bleus robbed of Ribery's leadership
- #WorldCupRank: Our Top 50 players of the World Cup
« Previous: No. 6 Neymar | Next: No. 4 Luis Suarez »